Supplier Relationship Management Software
Managing relationships with your suppliers is very important for your business.
That's why we've developed an SRM software package that makes it easier for you to collaborate with all your suppliers, from a single central location.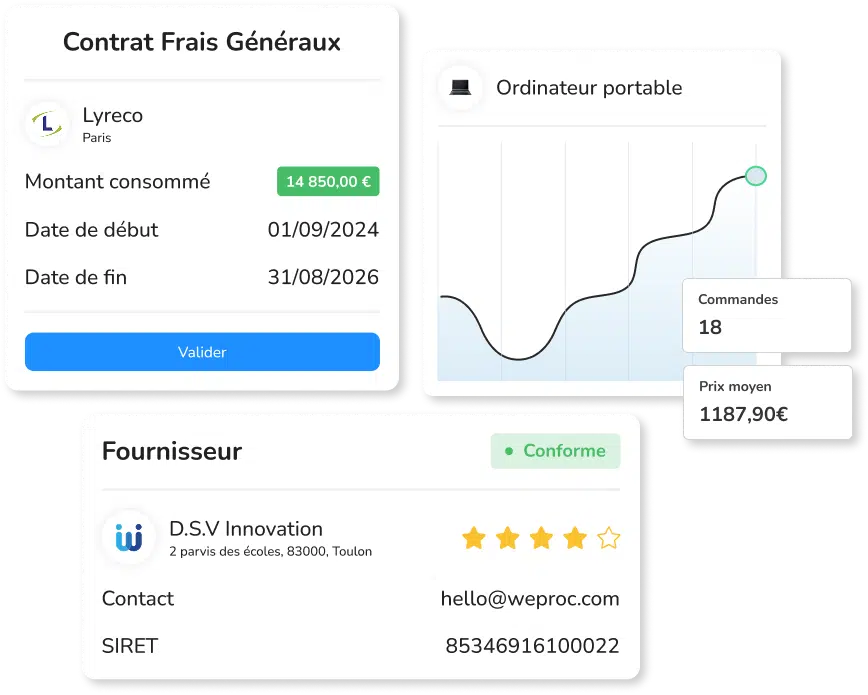 What are you waiting for to discover your new SRM software?
SRM (Supplier Relationship Management) software centralizes all supplier-related data, facilitates the updating of supplier information, analyzes supplier performance and detects related risks to improve collaboration, planning and purchasing management.
Weproc provides a wide range of functionalities to help you improve supplier relations, with the aim of becoming more competitive.
Why choose Weproc as your SRM software?
Managing relationships with your suppliers is one of the cornerstones of your strategy. Your company's performance depends on 2 factors: the expenses incurred and the quality of the products and services ordered. These factors depend on the relationship you have with your suppliers. Without being close to your suppliers, and monitoring their performance, your company's performance will be affected. Weproc enables you to be as close as possible to your suppliers.
Simplify communication with your suppliers by using the Weproc interface. A simple click on a link enables them to send you their documents (quotes, orders) with ease.
Take advantage of the platform's functionalities to optimize your purchasing and save time.
Put your suppliers in competition directly on Weproc. Create your RFQs and invite your suppliers to submit their bids in just 1 click. Bids are compared automatically, saving you time and allowing you to focus on your core business. Relationships with your suppliers have never been easier.
Benefit from a dedicated interface that lets you access and share your suppliers' information. Efficiently manage your suppliers by assigning products and services to them, as well as any useful information for your staff. Consult their purchase histories and statistics summarizing your consumption.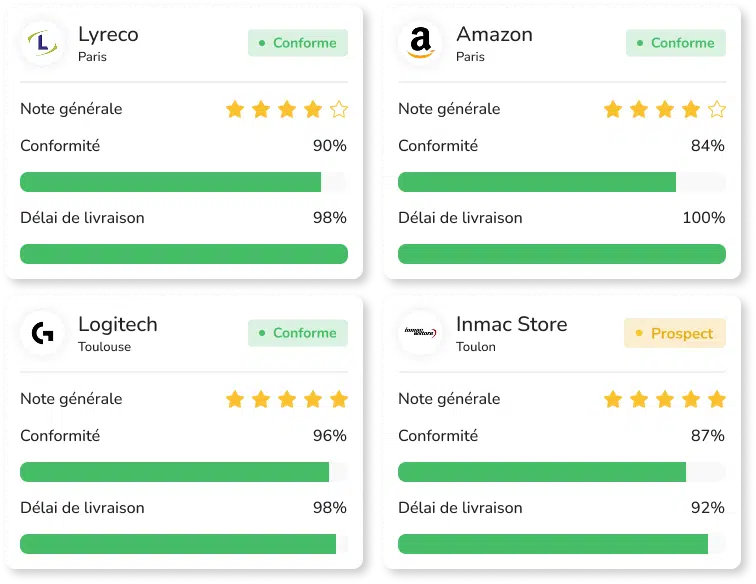 Efficiently manage your orders by leveraging your framework agreements and supplier contracts. Weproc is a complete SRM software package that facilitates the digitization of all your supplier contracts and guarantees their optimal management. Ensure efficient procurement and state-of-the-art financial management thanks to intelligent contract monitoring: receive alerts for tacit renewals, track consumption trends and analyze your year-end discounts, automatically.
Keep an eye on all your suppliers centrally: Weproc enables you to automatically request mandatory documents from your suppliers to ensure compliance with your corporate policy. This feature reduces risk, so you can work with the best-performing suppliers.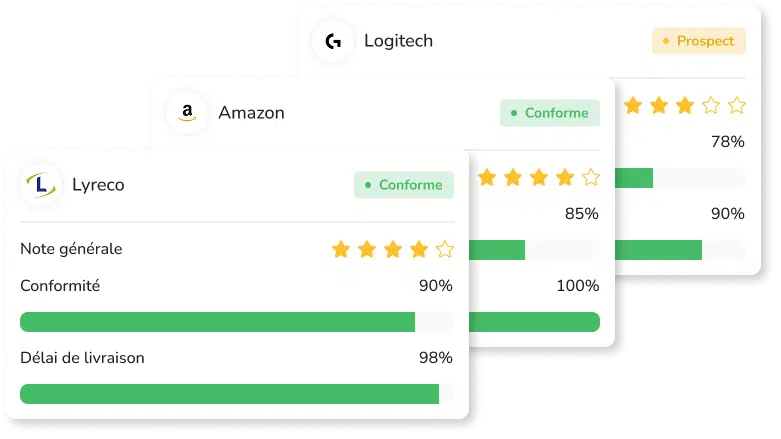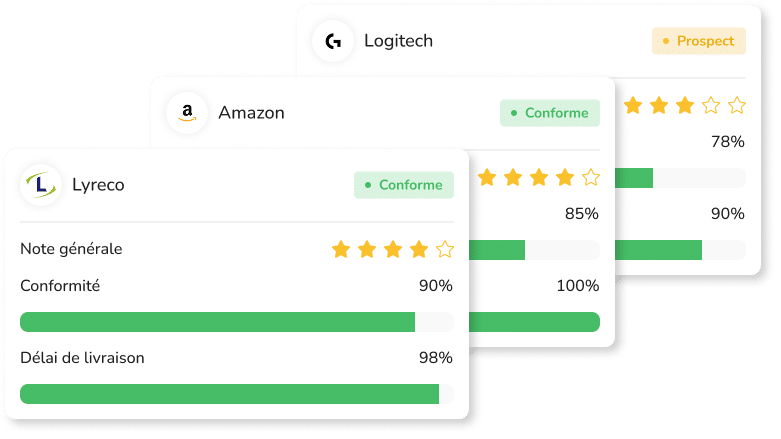 Frequently asked questions
Any questions ? We got the answers
What is SRM software?
SRM (Supplier Relationship Management) software centralizes supplier-related data, facilitates the updating of supplier information, analyzes supplier performance and detects supplier-related risks to improve collaboration, planning and purchasing management.
When it comes to the importance of supplier relationship management in the supply chain, there are two key pillars to recognize: assessing whether suppliers are meeting the company's needs, and identifying areas for improvement when engaging with suppliers throughout the collaboration.
These two factors are the main reasons why companies need a supplier relationship management system. SRM software also enables the company to collaborate with the best suppliers, enabling them to gain in efficiency. Regular evaluation, communication and feedback make it much easier to work closely with suppliers and find solutions quickly.
Weproc offers a wide range of features to help you improve your supplier relations, so you can be more competitive.
How does SRM software work?
An SRM (Supplier Relationship Management) functions as a centralized platform for managing and optimizing interactions with suppliers. It can manage activities such as supplier selection, contract negotiation, supplier performance monitoring and problem resolution.
In general, SRM software offers complete visibility into the history of transactions with each supplier, enabling accurate evaluation and informed decisions for the future.
Why implement an SRM solution?
Implementing SRM software can help improve the efficiency and productivity of procurement processes. It can automate many manual tasks, such as comparing supplier offers, managing contracts, and tracking deliveries.
In addition, SRM software offers greater visibility into supplier performance, which can lead to better supplier selection and more effective contract negotiations.
What are the benefits of using an SRM software?
There are many advantages to using SRM software:
It can help automate and streamline procurement processes, which can lead to reduced costs and increased efficiency.
It provides better visibility of supplier performance, which can help improve the quality of products and services.
It helps strengthen supplier relationships by facilitating communication and resolving potential problems quickly.
How to optimize supplier relations?
Optimizing your relationship with suppliers involves several steps.
First, it's important to establish clear and transparent communication. This includes sharing information on expectations, performance and opportunities for improvement.
Secondly, it is useful to set up systems for monitoring and evaluating supplier performance. This helps to identify areas for improvement, and to recognize suppliers who excel.
Finally, the use of SRM software can make a significant contribution to optimizing supplier relations by automating many processes and providing tools for effective supplier relationship management.