Purchasing management software
Approve your expenses with a head start​
Simple and intuitive, Weproc facilitates the management of Purchase Orders and invoices for SMEs and MidCaps.
More and more innovative companies are using Weproc
eProcurement software for modern companies
Optimising purchasing is a challenge for all the companies.
At Weproc, we understand it, which is why we have developed an easy-to-use and highly efficient eProcurement software.
Centralize and monitor all your purchases
Track all procurement-related activities in real time, including your requisitions, RFQ and orders. No need to waste time searching for important information, everything is visible in one place, and you can monitor progress at every stage of the process.
Track and manage your spending in real time
Because all your financial information passes through Weproc, there are no more unpleasant surprises : your budgets are respected, your invoices are validated, monitored and reconciled automatically.
Improve your supplier relationships, increase your performance
Work closely with all your partners. Simplify your collaboration with our
supplier portal
: transmit quotes, purchase orders, invoices and documents directly on the platform. Check the history and performances of your suppliers.
You are just 2 clicks away from simplicity
Nowadays, it is not enough to have a powerful software. It must also be simple to use it, and Weproc has understood it. Our main asset : an easy-to-use interface, a software that is easy to understand.
Automatically transfer data between your softwares
Weproc interfaces easily with all software on the market to simplify communication within your company's tools. Don't waste your time retyping information : we do it for you.
Simple and intuitive purchasing software
Weproc is a complete purchasing management software that adapts to your company. The features are modular and adapted to your process. It is the simplest and most efficient purchasing software available, and its ergonomic design will help you learn how to use it intuitively and naturally.
Weproc streamlines your ordering process in 6 steps.
Thanks to the latest generation of supplier management software (SRM), you can easily manage your supplier panel and work with the best. Supplier relationship management is a priority in 2022 given the challenges of today's purchasing and volatile supplier supply. Give yourself the means to achieve this with an integrated supplier portal, supplier vault and optimized statistical analysis for better risk management.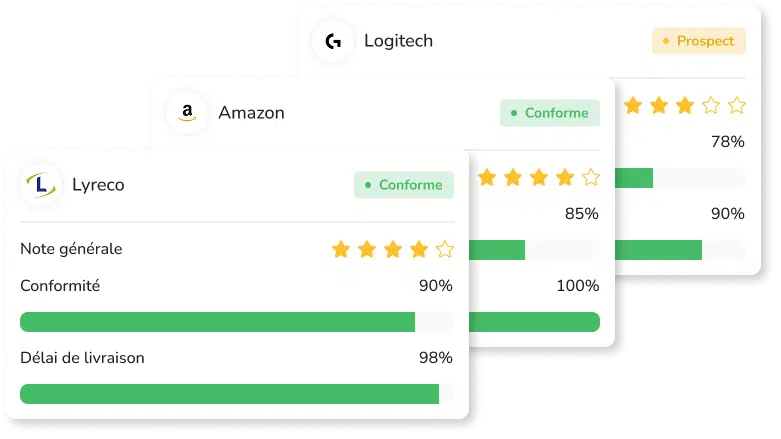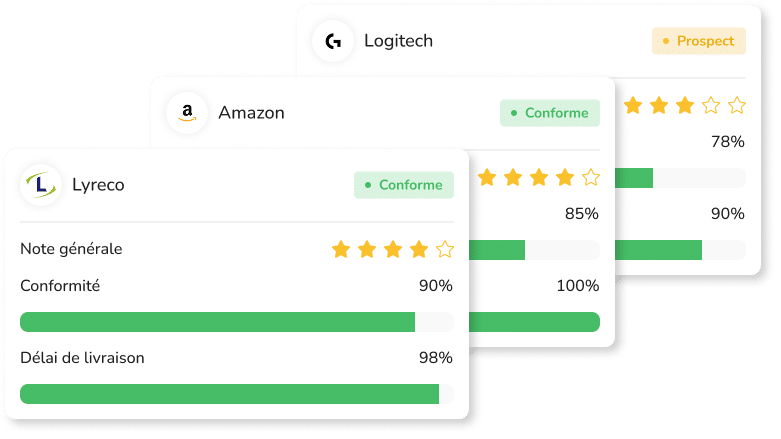 Control your base of items, products and services and order what you need, at the right price. Your price lists are integrated into the purchasing software and the catalogs are updated within your supplier management. Product catalogs by supplier are digitized, costs are controlled, and expense reports are tracked under several segments such as item category.
Control your order management with the use of your framework agreements and supplier contracts. Weproc is a complete purchasing software that allows you to digitize all your supplier contracts and ensure their proper management. Ensure efficient procurement and state-of-the-art financial management with intelligent contract monitoring: Tacit renewal alerts, consumption evolution, year-end discount analysis…
Track your budgets from the software and control your supplier expenses. Keep visibility on your commitment levels and drive your business with reliable, real-time metrics. Budget management is a good practice for growing SMEs that want to control their expenses. Thanks to Weproc's budget module, make your management controller happy.
Classify your purchases by categories in order to define a clear purchasing policy that is consistent with the reality of your business. To do this, integrate your purchasing nomenclature with your classification levels, and follow the evolution of the different thresholds. Use our modeling to analyze the Pareto principle applied to your organization and make strategic decisions.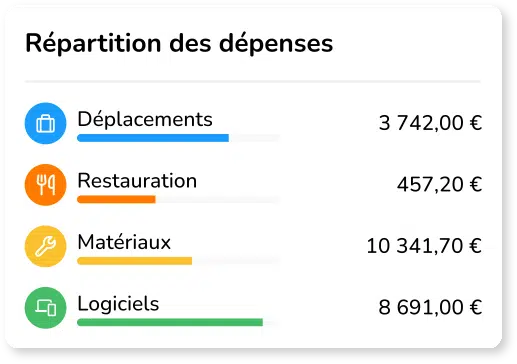 Follow the evolution of your expenses with our different dashboards. Thanks to these management indicators, you have an overview of your purchases and supplier expenses. The information is already reprocessed, exportable, and ready for your activity reports.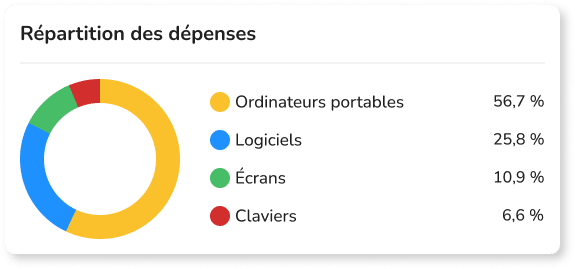 Hundreds of buyers, suppliers & financial managers recommend Weproc to optimize their purchasing management.

Weproc automates corporate purchasing management and simplifies your exchanges within a collaborative and ergonomic solution.