Improve your Supplier Relationships
Promote active collaboration for greater trust
Improve communications, centralize information exchanges and optimize your management to make your supplier panel a strategic axis of your company.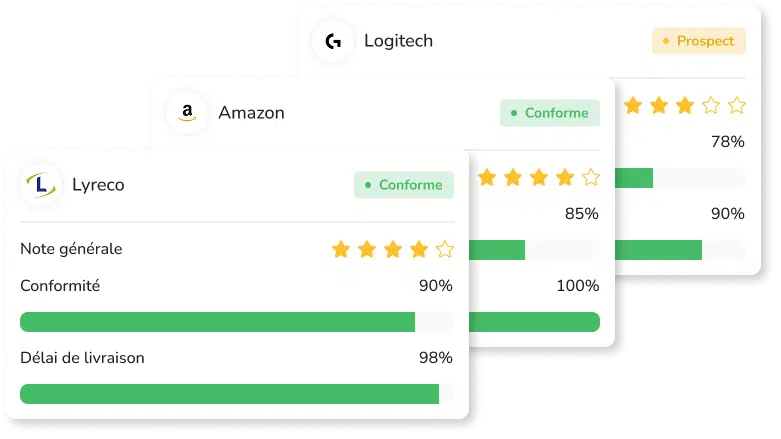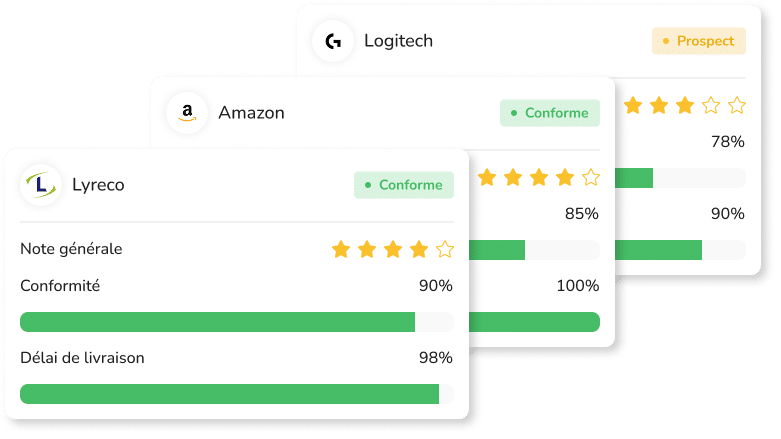 Centralize your supplier information with a digitalized catalog.
Send your requirements to your suppliers and compare quotes.
Follow the evolution of your contracts, anticipate deadlines and reduce risks.
increase in annual supply costs
The price of a bad relationship with suppliers
The relationship with your suppliers, a key to your company's performance
Weproc facilitates exchanges with suppliers and ensures better communication.
By improving relationships with your suppliers, you will be able to obtain better prices, shorter delivery times and better quality of service.
Centralized supplier panel
Find all your suppliers and manage your panel to match your company's requirements and challenges.
Evaluate their performance, compare offers and negotiate contracts from an intuitive interface.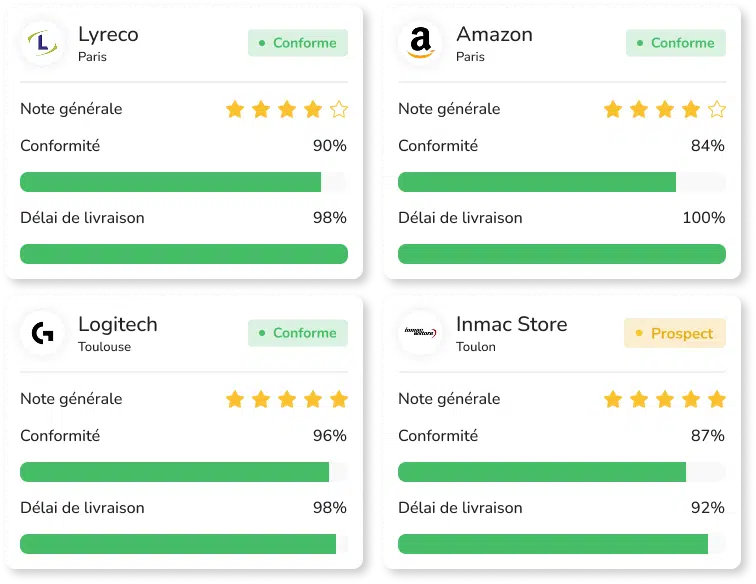 Transmission of the requirements
Send your specifications in one go to the suppliers on your panel and receive their quotes on the software.
Easily compare the quotes received from your suppliers directly on the platform and select the offer that best suits your needs and budget.
Follow-up of suppliers' contracts
Lifecycle, tacit renewal alerts, consumption thresholds… Exploit the full potential of your supplier contracts thanks to their digitalization.
Take a proactive approach and get the most out of your partnerships with supplier contract digitization.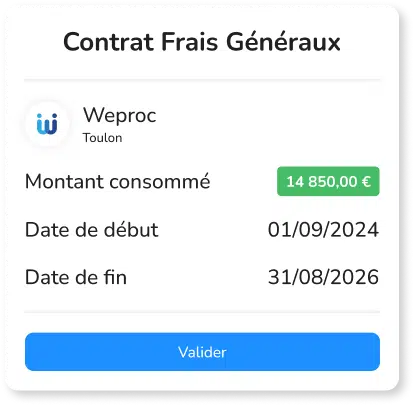 Frequently asked questions
Any questions ? We got the answers
How to negotiate better prices with your suppliers?
In order to negotiate with suppliers and obtain advantageous prices, it is important to know the market and the competition. It is also recommended to clearly define your needs and to negotiate according to the quantity ordered. A higher quantity supply is generally cheaper in terms of unit price!
How to effectively manage your supplier relationships?
To effectively manage your relationship with suppliers, you should communicate regularly with them, set clear objectives and evaluate them regularly, establish clear contracts and respect payment deadlines.
Structured eprocurement software such as Weproc allows you to improve your relationship with suppliers by setting up structured internal procedures.
How to minimize supply chain risks?
Whatever your activity, it is recommended to diversify your suppliers, to identify the critical points of the supply chain and to set up contingency plans to face them in case of problems.
The traceability of purchases is also an interesting solution to detect delivery problems.
What to do if you encounter a problem with a supplier?
To manage disputes with suppliers, it is important to remain calm and seek an amicable solution. It is also recommended to document all exchanges and agreements, and to rely on established contracts to resolve conflicts.
As a last resort, the courts or mediators can be called upon to resolve the situation. Remember to keep your estimates and digitalized invoices to use them as evidence.
How do you evaluate the quality of suppliers before deciding to work with them?
To evaluate the quality of suppliers, it is important to take into account several criteria such as their experience, their reputation, their ability to meet delivery deadlines, the quality of their product or service, as well as their ability to offer competitive prices.
It is also recommended to ask for references and to check for certifications or quality labels.