Digitalize your purchasing processes with our eProcurement Software
Purchasing management is crucial for all companies, from SMEs to large corporations. Find out how our solution can transform your procurement process.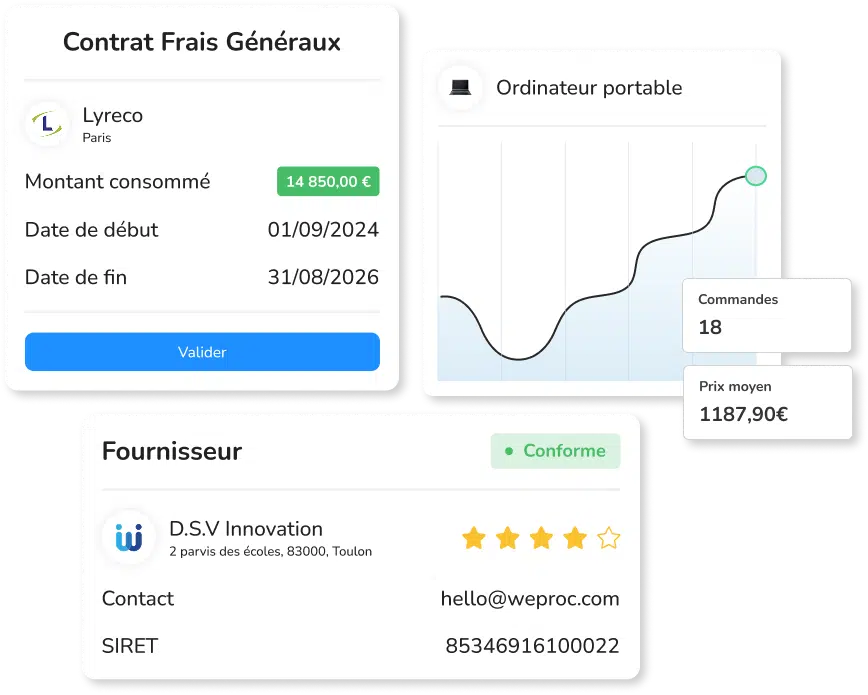 Discover your new eProcurement software
Our eProcurement software gives you full control over your financial commitments by streamlining your purchasing process. Instant validation of orders and data consolidation contribute to optimal management of your expenses.
What's more, Weproc ensures efficient supplier management, offers customizable modules and provides detailed analyses with predefined indicators, eliminating the need for reprocessing.
eSourcing vs eProcurement
eSourcing and eProcurement are two distinct concepts which, although they each play an important role in purchasing management, should not be confused.
eSourcing focuses on optimizing the upstream purchasing process. It is a tool that facilitates communication between buyers and suppliers, simplifies exchanges and makes purchasing procedures more standardized. eSourcing platforms are generally set up by a buyer and offer supplier rating tools based on various criteria such as delivery quality, price, quality of products or services delivered, and other performance.
> Weproc is also positioned as a source-to-contract and source-to-pay solution.
eProcurement, on the other hand, focuses on the transactional aspect of purchasing. It is a process that aims to automate and simplify operational purchasing through the use of software. E-procurement solutions cover the entire purchasing cycle, from creation of the purchase order to approval, supplier management and delivery tracking. They also offer tools for improving spend visibility, managing suppliers, and analyzing spend to make more strategic purchasing decisions.
Benefits of Weproc's eProcurement software
Purchase Requisition Management
Ensure optimal management of purchase requisitions and commitments, thanks to order validation processes specifically designed for your company.
Present your requirements in the form of simplified specifications and request authorization to make the purchase.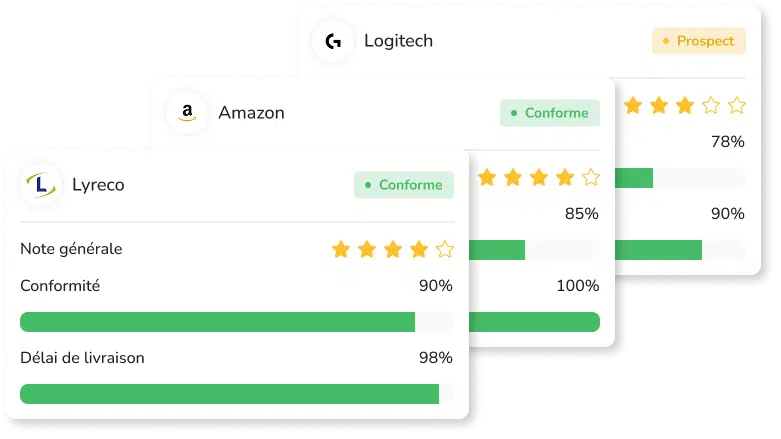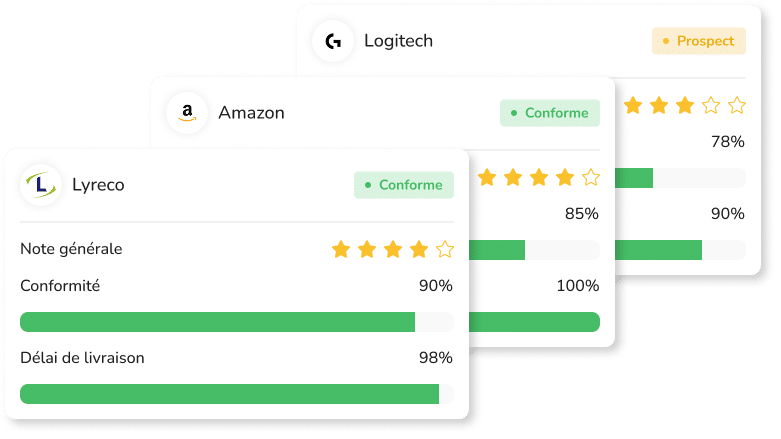 Optimisez votre processus en transmettant votre cahier des charges une seule fois à l'ensemble des fournisseurs de votre sélection.
Recevez leurs devis directement sur le logiciel pour une meilleure gestion du temps et une centralisation des offres.
Place your orders easily from Weproc and notify your suppliers of your purchase in the blink of an eye.
Tracking and analysis are carried out automatically, saving you time.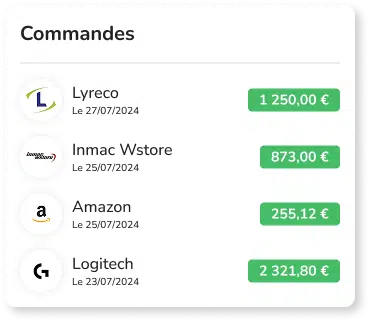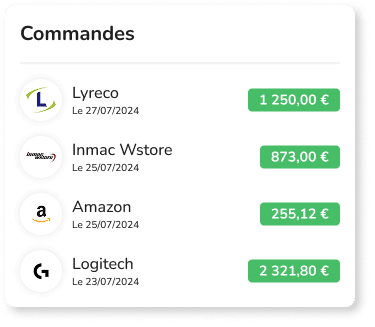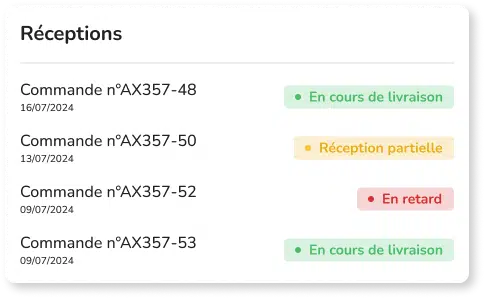 Keep meticulous track of every order you place on Weproc, and control your delivery times. Pay close attention to the quantity to be received to anticipate your stocks and ensure your next production runs.
Supplier Invoice Management
Group together all your invoices in Factur-X format with Weproc. Simplify invoice processing and optimize associated costs.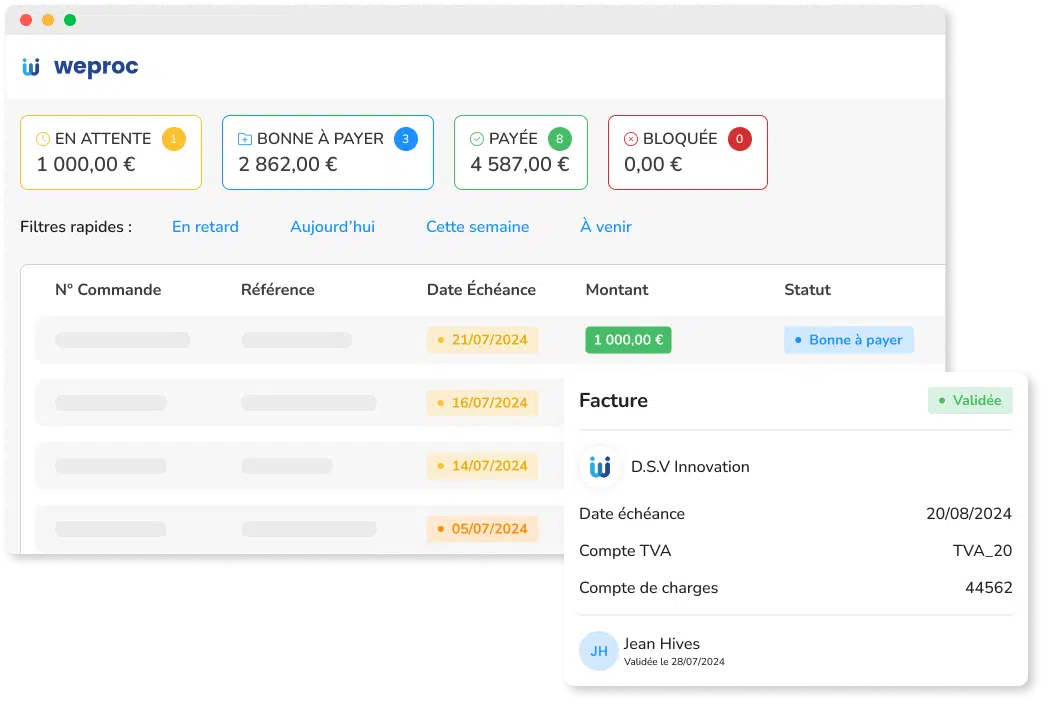 Supplier Payment Management
Control your payments in real time and keep your expenses under control. Automatically identify price differences between the purchase order sent, the invoice received and the payment in progress.
Frequently asked questions
Any questions ? We got the answers
What is e-Procurement?
eProcurement is an automated process that centralizes a company's purchasing activities on a single digital platform. It fits seamlessly into the procure-to-pay (P2P) cycle, which also includes order placement, supplier invoicing and receiving management. One of the main advantages of eProcurement is that it facilitates the monitoring and management of purchasing processes. Not only does it provide greater visibility of spending, but also optimum efficiency, reduced costs and improved compliance thanks to streamlined purchasing processes.
How can you digitize your purchasing cycle with an eProcurement software?
With eProcurement software like Weproc, you can guide your employees through every stage of the purchasing process, from expressing requirements to consulting catalogs and approving requisitions. This considerably speeds up purchasing processes and reduces procurement lead times. To digitalize your purchasing cycle with eProcurement software, you can follow the steps below:
Define purchasing requirements: The process starts with defining your purchasing requirements.
Catalog consultation: Once the requisition has been created, eProcurement software lets you consult various catalogs to find the products or services you need.
Requisition approval: Once you've found the product or service you need, you can select it and submit it for approval.
Purchase order generation: Once the requisition has been approved, a purchase order is generated automatically.
Budget tracking: Good eProcurement software also offers budget tracking features that allow you to monitor your spending in real time and make sure you don't exceed your budget.
How can an eProcurement software help my company?
eProcurement software like Weproc is a solution that facilitates the enterprise purchasing process by providing a seamless buying experience.
Our purchasing management software streamlines the process of requisitioning and tracking orders in real time, giving you complete visibility of your spend and effective control over deliveries.
Why is eProcurement so important nowadays?
E-procurement has become very important today for a number of reasons:
Time and efficiency savings: eProcurement solutions automate many manual procurement tasks, such as generating purchase orders, comparing prices between different suppliers, and tracking orders and deliveries.
Spend control: eProcurement systems provide complete visibility of company spending, enabling the identification of potential savings and the avoidance of unnecessary expenditure.
Compliance: eProcurement solutions help ensure compliance with internal company policies and external regulations.
Supplier collaboration: eProcurement systems can provide suppliers with greater visibility of purchase orders, which can improve supply chain efficiency and avoid unplanned downtime.
Do eProcurement and eSourcing tools complete each other in purchasing management?
eProcurement and eSourcing are two essential aspects of enterprise purchasing management, although they serve different purposes. Together, they enable companies to optimize their end-to-end purchasing processes, from sourcing to order management. In short, these two tools complement each other, as eSourcing helps to find the best suppliers, while eProcurement ensures efficient purchasing management with these suppliers. By using these tools together, you can achieve significant savings, improve the efficiency of your teams and gain greater visibility of your spending.