Eliminate repetitive tasks to focus on those with high added value!
Optimize your validation circuit, guarantee the respect of deadlines and procedures to your employees!
Approve, analyze and improve your purchasing process with Weproc.
Keep an eye on your actions and exchanges with the traceability.
Adapt the software to your working methods by customizing your workflow.
This is the average amount spent on procurement by European companies.
Procurement, a strategic resource
However, 80% of the tasks generate only 20% of value, Reverse the trend!
Thanks to Weproc, you can focus on meaningful missions and entrust your process to a dedicated software, with a fluid and interactive interface for the greatest happiness of your teams.
Manage your purchasing process
Harmonize your business with our comprehensive and intuitive solution. Automate low value-added tasks and control your actions in real time.
Set up an efficient action plan thanks to the software's features and move to a complete and intelligent follow-up of your process.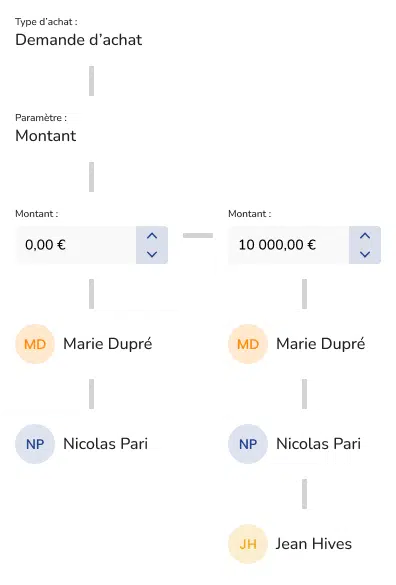 Keep an eye on your operations using traceability, measure your performance and identify any difficulties with ease.
The follow-up of exchanges allows you to detect potential flaws in your procedures and correct them quickly.
Customize your validation circuit
Continue to work with your existing methods and don't disrupt your teams' habits.
Optimize the management of your purchasing procedures easily with our pre-built templates.
Frequently asked questions
Any questions ? We got the answers
What is the purpose of a validation workflow?
A validation circuit is a structured and organized process that allows for the control and approval of purchase requests within a company. This mechanism promotes better management of suppliers, contracts and product or service catalogs.
The workflow system is essential in purchasing management because it ensures compliance with internal policies, avoids unnecessary expenses and optimizes allocated budgets. In addition, a well-defined validation circuit facilitates communication between the various stakeholders and ensures efficient follow-up of your folders, projects and businesses.
How to set up a validation circuit adapted to your company?
To set up a validation circuit adapted to your company, it is important to follow several steps.
First, identify the key players involved in the purchasing process and define their respective responsibilities. Then, establish clear validation rules according to purchasing categories and budget thresholds. Also consider the specificities of your company, especially if you manage several establishments. Integrate these rules into a workflow that will automate and streamline the approval process!
What are the benefits of an automated workflow?
An automated validation circuit has several advantages for companies :
It saves time by reducing the processing time of purchase requests and facilitating communication between the different actors.
It ensures better traceability of files and cases, thus facilitating the analytical follow-up of expenses.
The automation of the validation circuit limits human errors and the risk of non-compliance, while providing a global view of budgets and contracts with suppliers.
Can we set up exceptions in a validation circuit?
Exception management in a validation circuit consists of identifying and handling special cases that do not follow the standard validation process.
To effectively manage these exceptions, it is essential to put in place clear and appropriate procedures, to train the company's departments and to ensure fluid communication between the various stakeholders. An analytical exception tracking system will also help to identify possible malfunctions and adjust the validation process accordingly.
How to ensure the continuity of the validation circuit in case of absence or unavailability of a key player?
To ensure the continuity of the validation circuit in the event of the absence or unavailability of a key player, it is important to provide for replacement or delegation solutions. You can designate alternates who will take over validation responsibilities in the absence of the main validator.