Easily create, track and manage your current business and projects
Easily track the consumption of your business in real time. Keep an eye on the expenses and purchases made on each of your projects.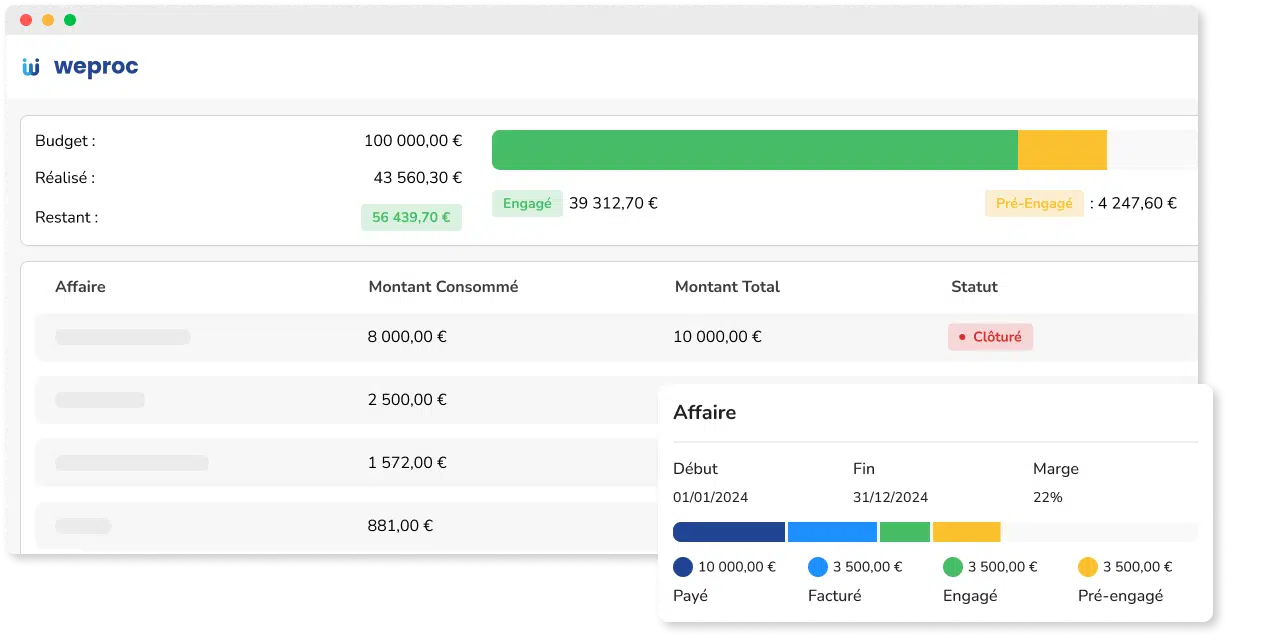 Weproc automatically calculates your profit on each of your projects.
Customize your validation circuit according to the project.
Benefit from real-time monitoring and analysis of your projects.
When the company effectively monitors its projects
Keep track of all your business, in real time
Lack of visibility into your current business can have a negative impact on your company's financial performance.
Weproc allows you to have real time visibility on the progress of each of your deals, and thus quickly identify savings opportunities.
Track and improve your margins
Our business management module automatically calculates the margin rate on each of your projects.
Make decisions in real time based on consumption according to the reports made.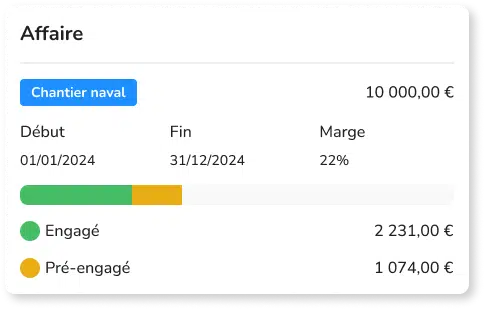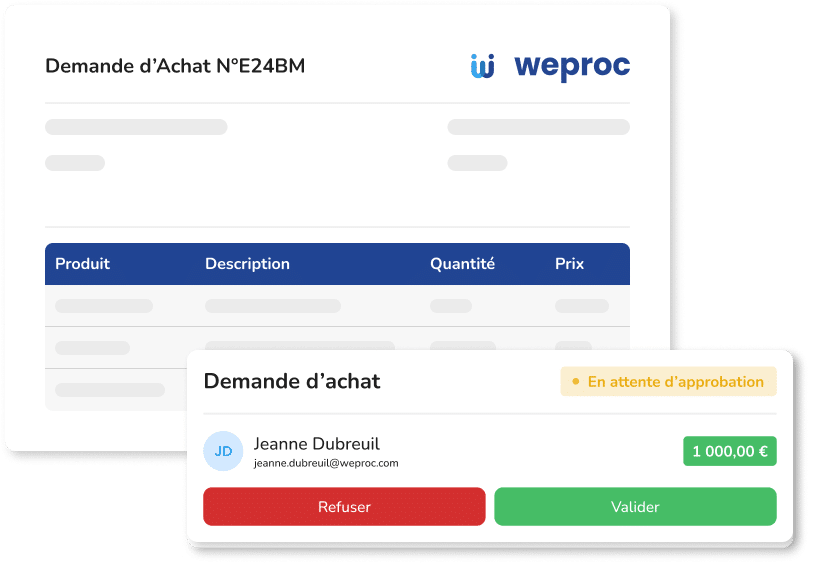 Create validation circuits based on the impacted project
Weproc offers you the ability to customize approval workflows based on the project that is affected by your expenses. The users concerned are immediately informed in real time, which speeds up the validation process.
Automatically track your business expenses
Each order placed through the software automatically updates the consumption of your projects, while allocation analyses are also updated in real time.
No more wasting time manually entering these expenses in a separate file.
Frequently asked questions
Any questions ? We got the answers
How to manage your business and projects efficiently?
To effectively manage purchasing-related matters in a company, it is important to adopt a structured approach.
With Weproc, it becomes easy to centralize information on supplier contracts, product catalogs and budgets. The implementation of validation circuits to organize the purchasing and validation processes will improve communication between the various players and ensure rigorous monitoring of your business.
How to measure the performance of business and purchasing projects?
To measure the performance of business and purchasing projects, it is essential to define key performance indicators (KPIs) adapted to the company's objectives. These indicators can include elements such as savings achieved, delivery times, quality of products and services, or supplier relationships.
Regular and analytical monitoring of these KPIs will allow the identification of improvement points and the optimization of business management related to the different purchasing categories.
What are the best practices for managing the operations of multiple sites?
In multi-site companies, the management of purchasing affairs can be facilitated by the implementation of eprocurement software such as Weproc.
With its features, Weproc makes it possible to coordinate purchasing processes between different establishments, to harmonize contracts with suppliers, and to share product and service catalogs.
It's also important to track the spending and performance of your various departments to identify opportunities for improvement and savings.
How to minimize risks in purchasing management?
To minimize the risks in your business, it is recommended to adopt a proactive approach and to closely follow market trends, technological evolutions and new regulations in force.
It is also important to diversify your supplier portfolio, to set up budgets adapted to the real needs of the company, and to regularly monitor the performance of your buyers.
Finally, a validation circuit integrated to your various files allows you to limit errors and delays in the supply cycle.
What are the benefits of good business management for a company?
Good business management offers many benefits to a company, including:
Reduced costs: by negotiating prices and selecting suppliers offering the best terms, a company can achieve significant savings.
Improved quality of products and services: by working with reliable and efficient suppliers, the company can ensure the quality of the goods and services purchased.
Optimize processes: Effective procurement management simplifies and accelerates the procurement process, reducing lead times and administrative costs.
Strengthen supplier relationships: By building trust and partnerships with suppliers, a company can benefit from better service and purchasing conditions.
Improved risk management: By tracking supplier performance and diversifying sources of supply, a company can reduce the risks associated with stock-outs, quality issues or price fluctuations.