Manage your process with peace of mind !
Place orders directly from the software and notify your suppliers of your purchase. The follow-up and analysis are done automatically.
Easily create and transmit orders to your suppliers.
Schedule delivery and acknowledge receipt of your order.
Streamline your exchanges by offering your partners a simplified experience.
reduction in processing costs
When placing an order with an adapted software
Ordering is at the heart of expense management.
Companies that use purchasing management software to place their supplier orders have seen a significant reduction in their administrative processing costs.
Weproc offers an automated solution to optimize the supplier ordering process, improving accuracy and speed of processing, reducing costs and improving supplier relationships.
Sending of purchase orders
Describe your need, select a supplier and the services you want, and submit your order instantly.
Maximize the efficiency and speed of your orders with our simplified platform. Don't waste time contacting your suppliers manually.
Keep track of the status of your purchases, from order to delivery, with real-time notifications and updates.
Quickly identify potential delays or problems and take corrective action to ensure business continuity.
Streamline your purchasing process
Give your buyers access to place their orders online. Reserve your approval on large amounts and resolve disputes quickly.
Find all the details on your files thanks to the traceability of the actions carried out and move forward.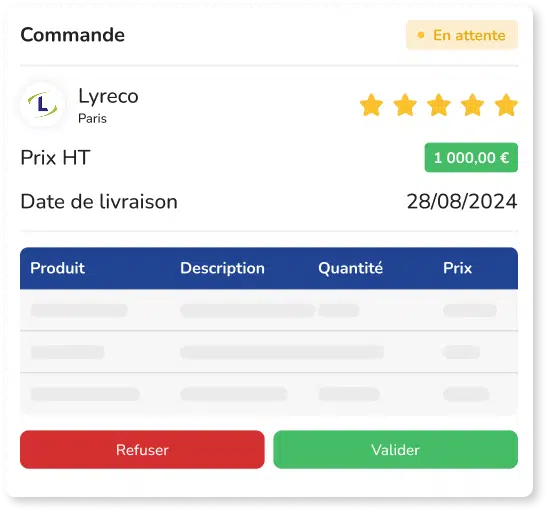 Frequently asked questions
Any questions ? We got the answers
What are the benefits of order management for businesses?
Order management offers many benefits to businesses, including improved inventory visibility, reduced order errors, and improved on-time delivery.
How can I avoid delivery delays ?
To avoid delivery delays, you must ensure that all order information is correct and complete. With its optimized order module, Weproc allows you to reduce the processing time of your order to a minimum.
How do I track the status of my order on Weproc ?
You can track the status of your order by logging into your Weproc account and accessing the "Orders" module. There you will find all the information about your order, including its status and expected delivery date.
What are the advantages of using an order management software ?
There are many benefits to using order management software. It allows you to track your orders in real time, automate repetitive tasks and facilitate order processing
With its order management and RFQ modules, Weproc allows you to optimize your supply chain by streamlining your purchasing process.
What is order management ?
Order management is the process of managing all stages of the order, from the creation of the purchase order to the reconciliation of the invoice received. This involves:
validation of the order,
generating the purchase order,
receiving the products or services,
monitoring the conformity of the order.