Keep an eye on your company's expenses!
Simplify your budgetary control from a dedicated solution. View your indicators in real time with interactive and dynamic tools.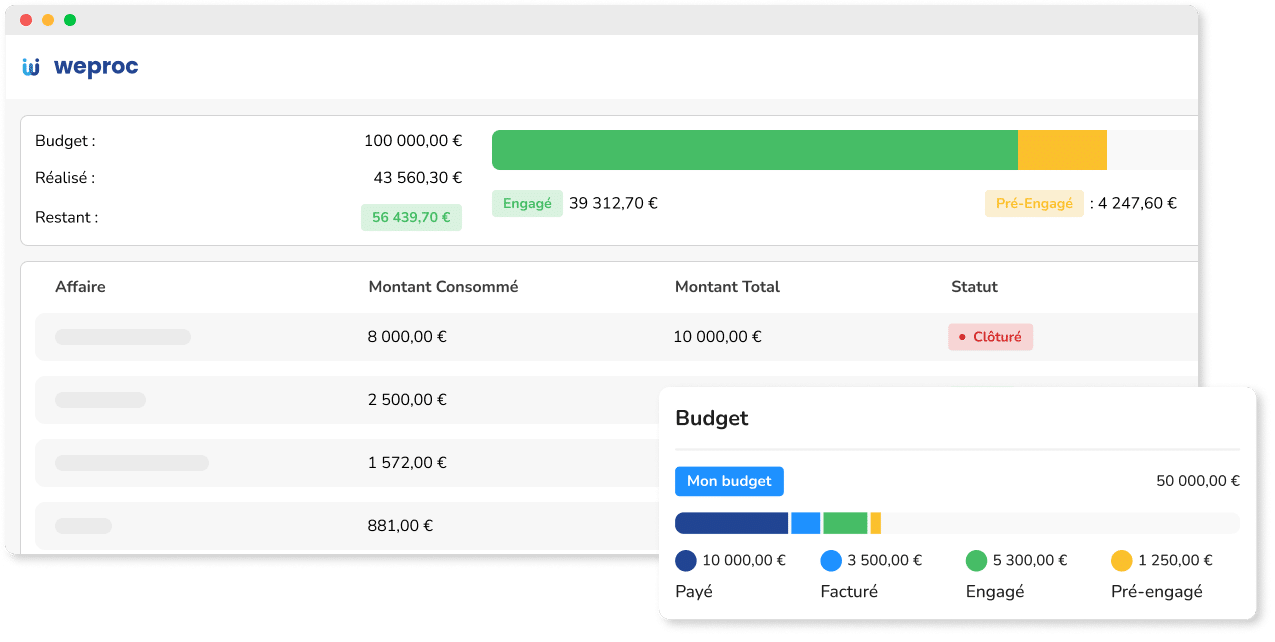 Create and list your supplier records from a centralized space.
Analyze the statistical reports of your suppliers thanks to numerous indicators.
Send your requests for quotes and orders to your suppliers in one click.
Able to consolidate all essential information of your purchasing process.
Manage your budgets with efficiency
All your financial goals are visible at a glance.
Take control of your expenses and leave no room for unpleasant surprises. With a real-time view of your commitments, without reprocessing your services, you have access to strategic data about your business. Breathe with Weproc.
Allocate a budget to each purchase and benefit from an automatic update of the evolution of your expenses!
Find your information summarized with interactive statistics. Manage your expenses with intuitive indicators.
Control your scorecard in real time! Analyze your expenses already incurred and adjust your budgets for the current year.
Take control of your expenses by framing your purchasing process for better cost control.
With the overview, empower your employees and adjust your strategy based on your purchasing data.
Identify your weaknesses and limit your risks with modern eprocurement software that meets your needs with its many features.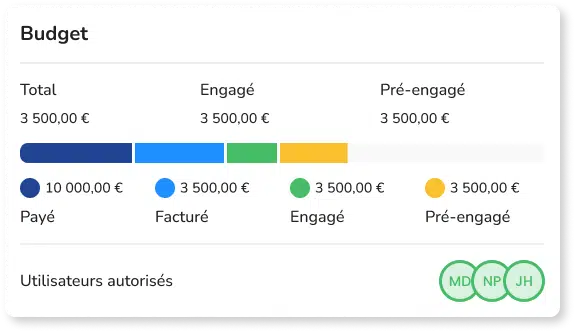 Frequently asked questions
Any questions ? We got the answers
How to develop a purchase budget?
Developing a purchasing budget for a company involves several key steps.
First, it is necessary to analyze the company's needs in terms of goods and services, and then to identify potential suppliers and the available product catalogs. Next, it is important to negotiate contracts with the selected suppliers, taking into account financial conditions and delivery times. Finally, an analytical follow-up of the expenses and budgets allocated to the different purchasing families will allow a better control of the costs and the optimization of the purchasing processes.
What is a budget management workflow and how to set it up?
A budget management workflow is a structured process for tracking and controlling procurement-related expenses in an organization.
To implement it, it is necessary to define the key stages of budget management, such as the validation of purchase requests by department, the approval of contracts with suppliers, the follow-up of orders and the reception phase.
A budget management tool can facilitate collaboration between the different actors involved and ensure rigorous tracking of expenses within your files and businesses.
How to manage purchasing budgets across multiple locations?
Managing purchasing budgets for multi-location companies can be a challenge, but it can be made easier with a centralized and coordinated approach.
It's important to implement a budget tracking system like Weproc that allows you to view and compare spending across locations. It is also crucial to harmonize purchasing processes, supplier contracts and product catalogs to achieve optimal purchasing conditions and cost savings.
How to monitor and control expenses against allocated budgets?
In order to monitor and control expenses in relation to allocated purchasing budgets, it is essential to implement a digitalized expense tracking system. This system must allow you to break down expenses by purchasing family, by supplier or by department, and compare them to the planned budgets.
It is also important to set up performance indicators and alerts in case of budget overruns, so that corrective measures can be taken in real time.
How to foresee and anticipate budget variations?
To forecast and anticipate budget variations in purchasing management, it is important to regularly monitor market trends, supplier prices and technological developments. This monitoring will enable budget forecasts to be adjusted according to the opportunities and risks identified.
It is also recommended to set up dashboards and key performance indicators to monitor the evolution of expenses and budgets allocated to the different purchasing families. Finally, it is essential to promote fluid communication between the various departments of the company to adapt budgets according to needs and strategic priorities.