Purchasing Management Software
Software that transforms the purchasing and procurement of modernizing businesses.
Thanks to the automation of operations, the tool allows your teams to focus on their strategic missions and offers a fluid and interactive user experience.
What are you waiting for to discover your future purchasing software ?
Thanks to the Weproc Purchasing Software, the management of expenditure commitments is controlled. Real-time order validation and data centralization optimize your processing costs. Finally Weproc is a healthy supplier management, adapted modules and statistics with modeled indicators without reprocessing.

Benefits of Weproc's purchasing software
Purchasing management, teamwork
Whether you are a small business without a buyer or a purchasing department within an SME, everyone is concerned by purchasing. You need a simplification of purchasing procedures. That's good, we automate it!
Benefit from a complete purchasing software finally adapted to your activity, intuitive and pleasant. Forget Excel spreadsheets, let your mailbox breathe, and find all the features you dream of, centralized within Weproc. We will save you time in your reprocessing.
Rest assured, all your data is centralized, from supplier management to your budgets. Your employees benefit from an easy-to-use tool, and your business can continue no matter what ! Your expenses are under control, and you keep control of your procedures.
Need to buy but it's not your job ? Don't stress anymore. Validate your purchase request very simply and very quickly so as not to penalize your activity and concentrate on your core business. The procedure is respected, and you can work serenely thanks to Weproc.
What's the purpose of a purchasing management software?
The purchasing function of companies is essential. It has always existed and will continue with many changes. An optimal purchasing management allows to reach performance levels. That's why you must now opt for a digital transformation of your purchasing.
Administer the management of purchase requests and commitments with order validation workflows adapted to your organization.
Digitize administrative procedures to reduce the costs of your business processes: instant approvals, centralized purchasing files and connected budget management.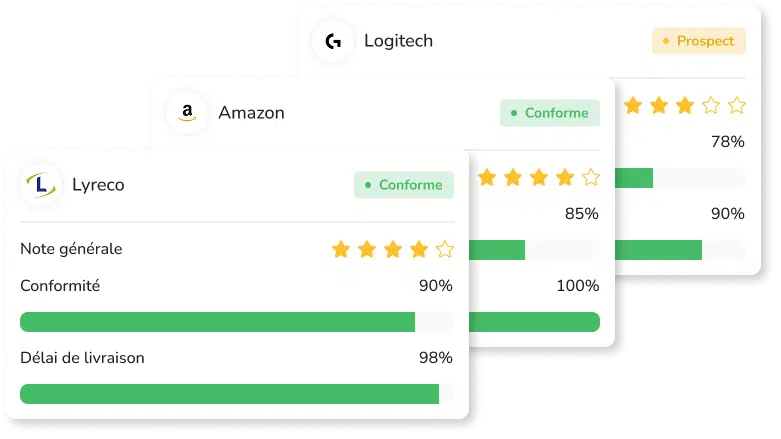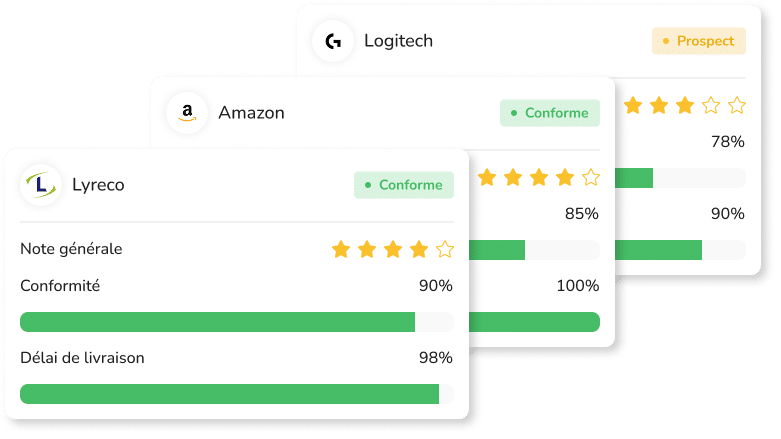 Thanks to the latest generation supplier management software (SRM), manage your panel of suppliers very easily and work with the best. Supplier relationship management is a priority in 2022 in the face of current purchasing challenges and volatile supplier supplies.
Give yourself the means to achieve this with an integrated supplier portal, Supplier Vault and optimized statistical analyzes for better risk management.
Master your base of articles, products and services and order what you need, at the right price. Your price lists are integrated into the purchasing software and the catalogs are updated within your supplier management.
The catalogs produced by supplier are thus digitized, the costs controlled and the expense reports monitored under several segments such as the category of articles.
Master order management with the use of your framework agreements and supplier contracts. Weproc is a complete purchasing software that allows you to digitize all your supplier contracts and ensure their proper management.
Ensure efficient supply and state-of-the-art financial management with smart contract monitoring: tacit renewal alerts, consumption trends, analysis of end-of-year discounts, etc.
Controlled purchases are the delight of management control. Thanks to the centralization of purchasing files, managing supplier invoices becomes child's play.
The management of commitment requests ends naturally in the accounting module where all the data is known to automate the entry of accounting entries and payment commitments. Invoice processing is simplified and the associated costs are optimized.
Weproc is an e-procurement type purchasing solution designed to automate repetitive tasks. It is also a rights management tool with major advantages in the customization of interfaces and the user-friendliness of its use even on a mobile device, ideal for validating remote orders.
Organize your internal purchases, plan your future purchases, control your direct purchases. Everything is possible with your Weproc purchasing software.
Frequently asked questions
Any questions ? We got the answers
What is a purchasing management software ?
A purchasing management software like Weproc allows companies to easily manage all their orders, from the purchase request to the payment, including the validation of the invoice. It is also possible to automatically track suppliers, contracts, budgets, business and products consumed within the company.
Why implement a purchasing management software ?
Implementing a purchasing management software allows you to follow and control your expenses in order to be more efficient, and thus keep the hand on the management of your company. It becomes easy to optimize your purchasing, supply and supplier invoicing processes.
Moreover, the functionalities of modern purchasing software often offer better inventory management, cost reduction, order traceability, process automation, improved quality/price and better supplier relations.
The implementation of a purchasing software is therefore a key solution to digitize your purchasing processes and guarantee an optimal management of your supply chain.
Who can use a purchasing management software ?
Any company, regardless of its size or industry, can use purchasing management software and benefit from it. Whether it's to automate procurement processes, track expenses, manage suppliers, or improve the quality of purchased products, purchasing software offers many features adapted to the needs of each company.
Weproc is especially effective when you feel the need to control your internal process, in order to better monitor your company's procurement and ensure proper inventory management. Our solution is accessible to all budgets and levels of use.
How to set up a purchasing management software ?
The time it takes to set up a purchasing management software depends on the complexity of your purchasing process and the data to be imported into the software.
At Weproc, the implementation time is between 2 and 7 days, depending on the amount of data to import. If you do not wish to import any data, Weproc can be set up instantly.
What are the advantages of using a purchasing management software ?
Using a purchasing management software like Weproc offers many advantages on your purchasing process :
Tracking purchase requests, consultations and orders is simplified.
You save time in validating requests, tracking orders, and processing invoices and payments.
The follow-up of suppliers, the respect of budgets, and the good use of negotiated contracts allow any company to gain in productivity.