Supplier invoice management
Add, match and validate all your supplier invoices
Weproc allows you to centralize all your invoice receipts, analyze them with our OCR system, and store them in the right place.
Centralize your supplier invoices and save time on your management.
Anticipate Factur-X legislation by simplifying your digital transition.
OCR simplifies invoice management by automatically extracting key data.
Processing time of a paper invoice
All your supplier invoices in one place
Managing supplier invoices can quickly become a complicated process. According to Ernst & Young's analysis, it takes 2 weeks to process a paper invoice, while a dematerialized invoice can be processed in 3 days.
Weproc automates supplier invoice management and reduces processing time by 80%, freeing your team to focus on higher value-added tasks.
Centralize and digitize all your supplier invoices
Automatically add all your supplier invoices to the software and let our system process them automatically. The invoices will then be sent to the stakeholders for validation and payment. With this automation, you will avoid data entry errors and save time in managing your invoices.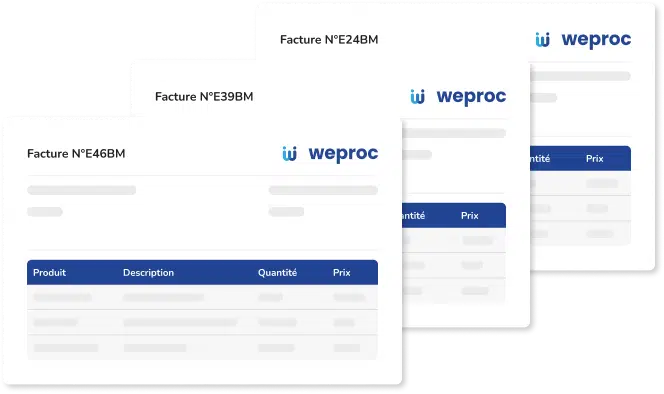 Anticipate the legislation : Factur-X
With its invoice management module, Weproc allows you to store all your invoices in Factur-X format.
Get ahead of the curve and start your digital transition now.
Reading, data extraction and automatic reconciliation
Our OCR (Optical Character Recognition) system allows you to quickly read and extract the key information you need to efficiently manage your invoice processing.
Key data is automatically extracted to save you time in your purchasing process.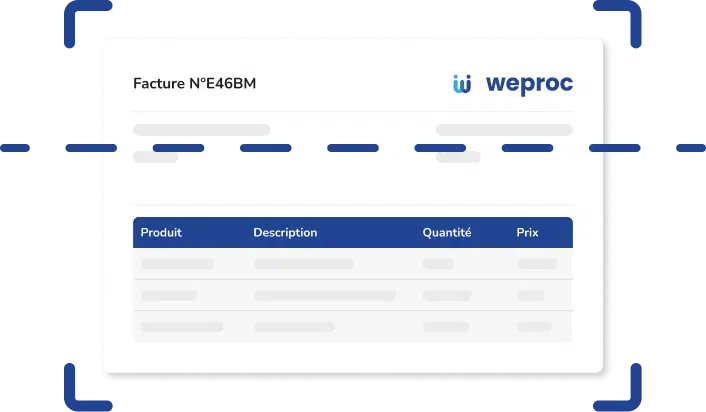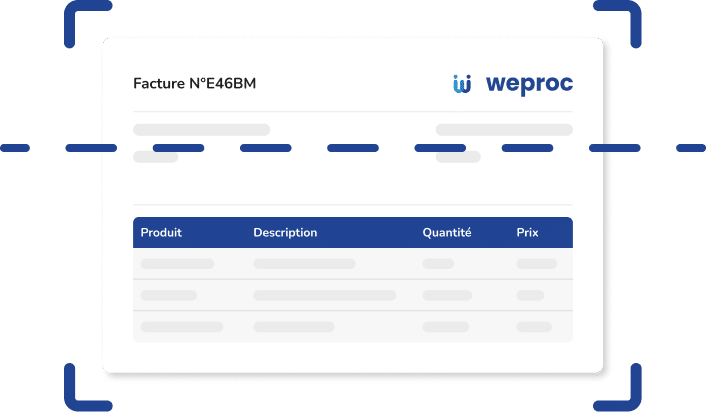 Frequently asked questions
Any questions ? We got the answers
What is supplier invoice management?
Supplier invoice management refers to the process of receiving, verifying, recording and paying invoices issued by a company's suppliers. It is a critical component of purchasing management as it ensures that payments are made accurately and on time.
Why is it important to manage your invoices ?
Effective supplier invoice management ensures that payments are made accurately and on time, which can help build trust with suppliers. In addition, proper invoice management can help avoid billing errors and reduce costs associated with disputes or late payments.
How to organize the management of supplier invoices ?
To organize the management of supplier invoices, it is recommended to set up an invoice numbering system and to classify them by date, by supplier or by expense category. Companies can easily optimize their purchase requisitions by using Weproc.
How to check the validity of an invoice ?
To verify the validity of a supplier invoice, it is important to make sure that it contains the legally required information, such as the supplier's VAT number, the total amount of the invoice, the details of the products or services in the order, etc. It is also important to check that the prices charged correspond to the agreed prices.
Can we automate the management of supplier invoices?
To automate the management of supplier invoices, companies can use an eprocurement software with automated invoice processing functionality.
Weproc can be used as an electronic invoicing software to automatically scan and capture invoice information, file and store it.