As of July 1, 2024, all French companies subject to VAT will be legally required to receive and store their electronic invoices. We are here to help you comply with this new regulation and to help you prepare to receive dematerialized supplier invoices with complete peace of mind.
Find out the deployment schedule for electronic invoicing.
What is the Factur–x standard? How does an electronic invoice work?
Weproc takes care of everything from receiving to storing electronic invoices.
Electronic invoicing:
Weproc takes care of it
With Weproc, all your invoices are stored in the same place, making it easy to access and track them. Our supplier portal also allows your partners to submit their invoices directly to this same space.
Our OCR (optical character recognition) technology automatically extracts key information from your invoices, reducing errors and processing time. Simplify your invoice management and save time in your purchasing process.
Weproc compares invoices with purchase orders and receipts to ensure the accuracy and compliance of your purchases. This automated reconciliation relieves your accounting department by detecting any discrepancies.
Our electronic invoices are compatible with the European Factur–x standard, guaranteeing readability for both humans and machines. Anticipate your digital transition by choosing a solution that complies with the new regulations.
Weproc assists and guides you from the receipt of the invoice to the payment process.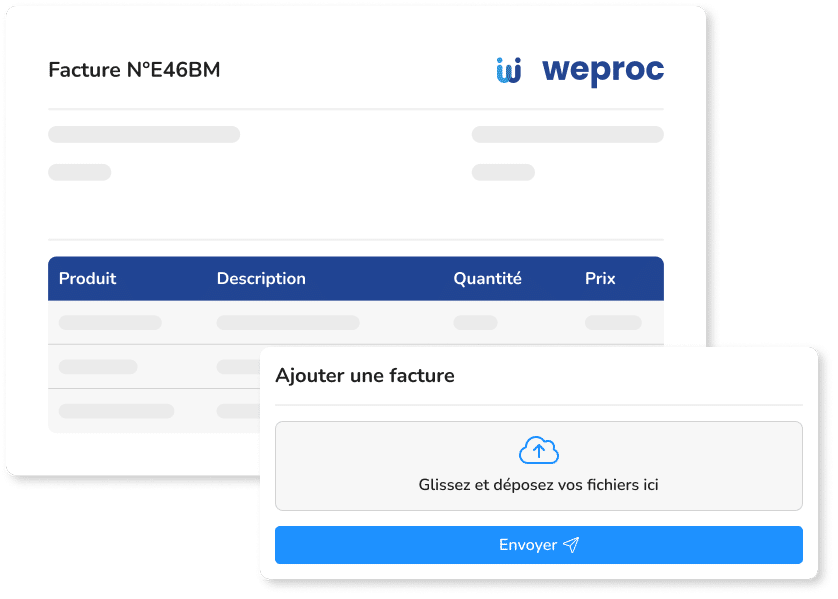 Electronic Billing Schedule
This reform affects all companies subject to VAT in France.
In order to give them enough time to prepare, the French administration has planned a gradual deployment according to an established schedule:
The DGFIP has adopted a scheme that allows companies to choose the dematerialization platform of their choice and to work with their current service providers: Dematerialization Operators (DO) and/or Partner Dematerialization Platform (PDP), or directly with the Public Billing Portal (PPF).
Weproc is positioned as a Dematerialization Operator: whatever the situation, we will be there to support you in managing your electronic invoices.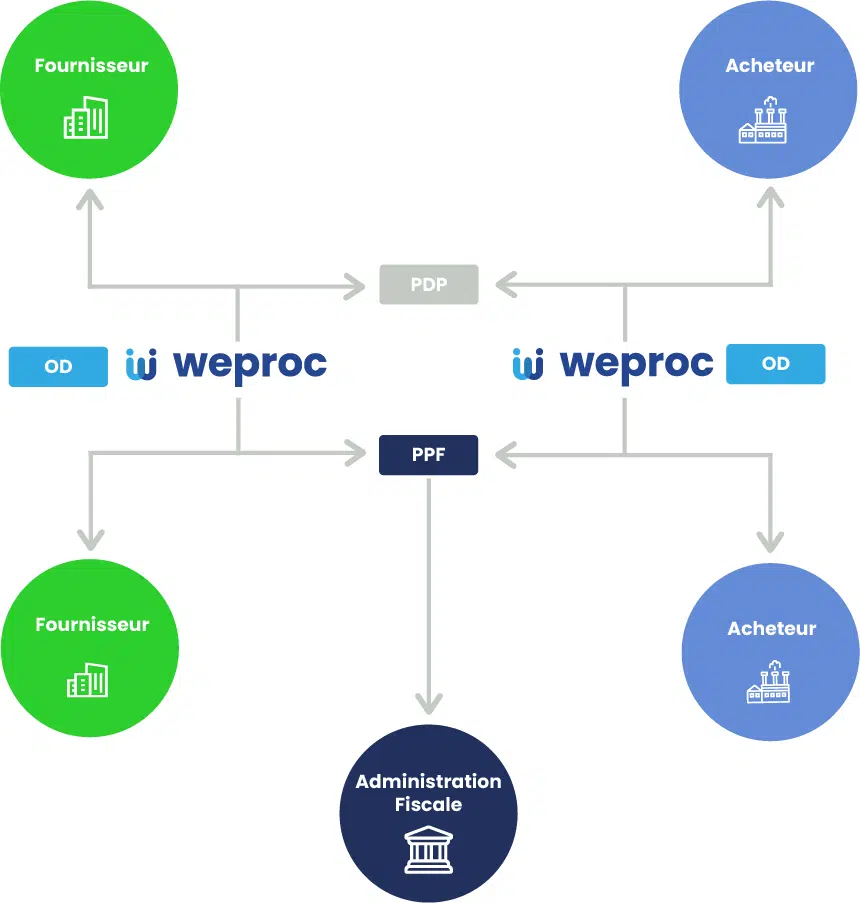 The benefits of electronic invoicing
Electronic invoicing has many advantages that translate into financial, productivity, environmental, time and security gains.
Administrative costs can be reduced by 50 to 75% compared to paper processing thanks to the elimination of paper document handling, the reduction of processing times, the elimination of printing, mailing and storage costs.
The future of corporate billing
Companies will be forced to choose one or more platforms to issue and receive their invoices, such as the Public Billing Portal (PPF), Partner Dematerialization Platforms (PDP), or Dematerialization Operators (DO).
In order to simplify your management and facilitate the automation of data transfers, we recommend that you adopt an invoice management solution such as the Weproc electronic invoicing software.
This solution will allow you, by using the Public Billing Portal, Partner Dematerialization Platforms or Dematerialization Operators compatible with your purchasing software
Monitor the processing and progress of your invoices,
send and receive your invoices in electronic format,
automatically carry out your e–reporting, without re–entering data.
Your entire process is managed on Weproc, right down to the receipt and storage of the electronic invoice (Factur–X)
Weproc is THE electronic invoicing solution for innovative companies. Manage your entire purchasing process on the platform, right up to the management of your invoices.
Create your purchase requests, transform them into orders, track your budgets in real time, and add your invoices: all in one place.
Your invoices are automatically reconciled with your purchase orders and stored in the Factur–X format to comply with new regulations.
Frequently asked questions
Any questions ? We got the answers
What is the Factur-x?
Factur–X is an electronic invoice format developed jointly by France and Germany in 2017 to meet the requirements of the European standard EN16931, established by the European Commission for Standardization (CEN). This format was designed by the National Forum for Electronic Invoicing and Electronic Procurement (FNFE–MPE) in France and its German counterpart, FeRD.
It is important to note that a simple PDF is not considered an electronic invoice. Factur–X is a hybrid format that combines the two most commonly used invoice formats: XML and PDF. This hybrid format consists of a PDF/A–3 file, which includes a human–readable PDF invoice and an XML structured data file containing the invoice details. The structured part allows the invoice to be automatically integrated into management systems, such as ERP or accounting software.
What are the advantages of the Factur-x format?
Using the Factur–X format has several advantages for companies. First of all, it allows for automated invoice processing, thus reducing the risk of errors and disputes. In addition, it reduces administrative costs related to invoice management, secures information and improves business relations between suppliers and billers. Thanks to its compatibility with the European standard EN16931, this format also facilitates international exchanges.
Finally, the Factur–x format is both human–readable (PDF/A3 format) and machine–readable (XML format), making it easier to exchange, process and archive electronic invoices.
When will electronic invoicing become mandatory in France?
The receipt of electronic invoices will be mandatory for all companies in July 2024, regardless of their size.
At the same time, the issue of electronic invoices will become mandatory :
from July 1, 2024 for large companies ,
from January 1, 2025 for medium–sized companies,
and from January 1, 2026 for SMEs and sole proprietorships.
How does Weproc ensure the security of my invoice data?
Weproc uses advanced security protocols to protect your data and ensure the confidentiality and integrity of your electronic invoices.
Our data storage infrastructures are hosted in highly secure data centers. We also perform regular backups of your invoices to ensure their availability in the event of an incident.
In addition, Weproc complies with security standards and data protection regulations, such as the RGPD, to ensure that your personal and customer information is handled appropriately and securely.
Is Weproc's electronic invoice compatible with my accounting software?
Weproc is designed to integrate easily with commonly used accounting software, simplifying the transition to electronic invoicing and interoperability between systems. Our tool supports the import and export of data in standardized formats, such as the Factur–X format, allowing for easy integration with most accounting software on the market.
Our team works closely with accounting software vendors to ensure that Weproc can integrate seamlessly with their solutions. For companies using specific accounting software or custom systems, Weproc also offers APIs (Application Programming Interfaces) that allow developers to easily integrate our e–invoicing solution with their existing infrastructure. APIs provide a gateway between Weproc and your accounting software, allowing the automated exchange of billing data between the two systems.
Our technical team is available to help you integrate Weproc with your accounting software!