Supply management is a strategic lever for your company's success.
Weproc enables you to stay one step ahead of your competitors, so you can manage your supply chain more efficiently.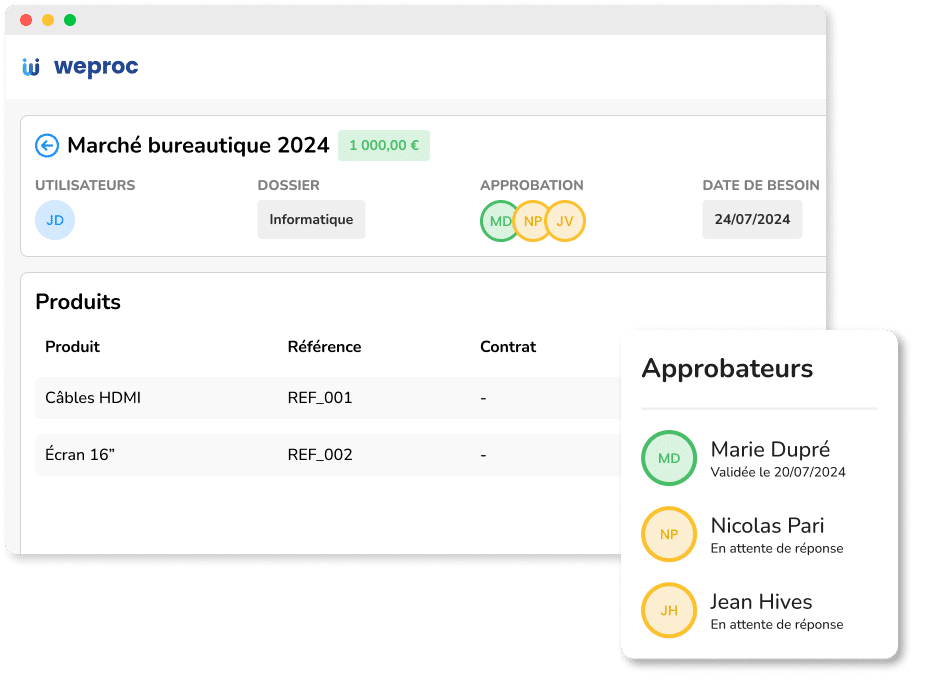 What are you waiting for to discover your future
sourcing software?
With Weproc, you have a leading sourcing management solution designed to optimise your operations and streamline your procurement.
Our sourcing software offers a comprehensive range of integrated modules, each designed to address a specific function in the purchasing process.

Why opt for Weproc for your supplies?
Our supply management solution gives you total control over your financial commitments by optimising your purchasing process. Instant validation of orders and centralisation of data contribute to optimised management of your expenditure.
What's more, Weproc ensures efficient supplier management, offers customisable modules and provides detailed analyses with pre–established indicators, eliminating the need for reprocessing.
Discover the efficiency of a dematerialised purchasing process with Weproc, purchasing software specialising in enterprise supply management.
Our modules have been specifically developed to improve and simplify every stage of your procurement process.
Optimise the management of purchase requisitions and commitments by using validation processes tailored to your business. Present your requirements in simplified specifications and request authorisation to make the purchase.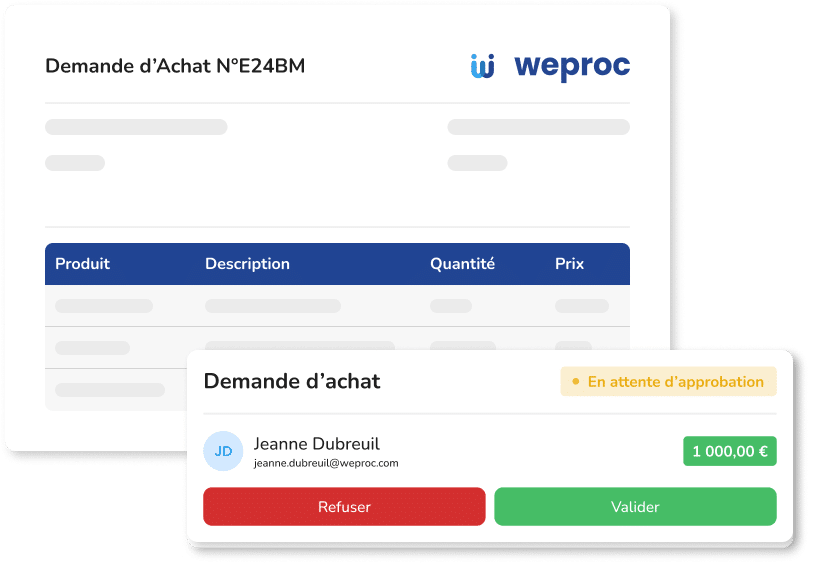 Manage your orders efficiently with Weproc, and keep your suppliers informed of your purchases in real time. Let the automatic tracking and analysis features save you precious time.
Keep rigorous traceability of all orders placed via Weproc, enabling you to control your delivery times. Anticipate the quantities to be received to better manage your stocks and guarantee the continuity of your future production.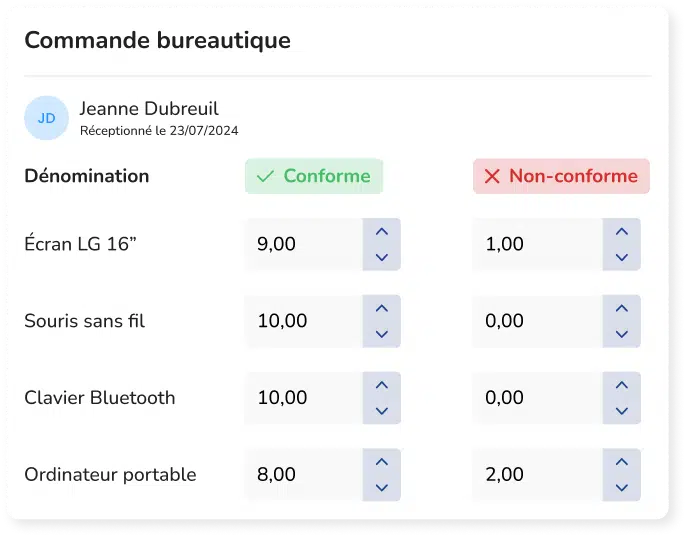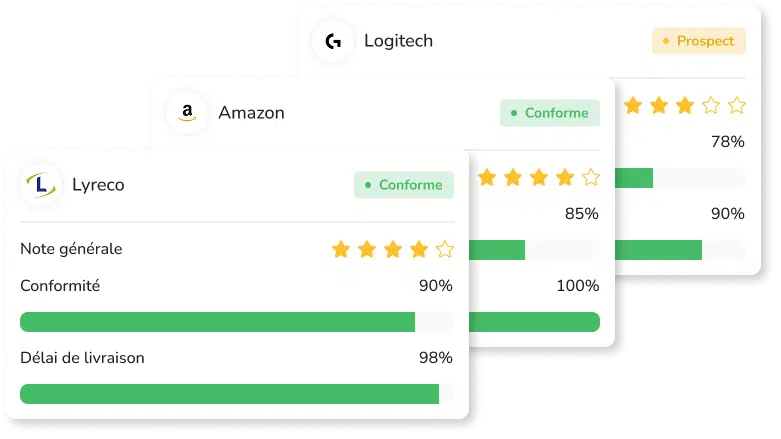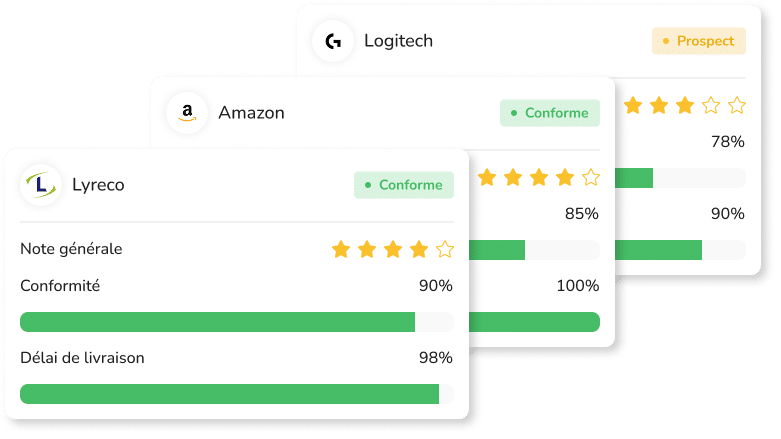 Maximise the efficiency of your specifiers by strategically linking items, products and services to your suppliers. Transparently consult the history of current and past purchases made from your suppliers, as well as all the statistics summarising your exchanges.
Manage your invoices efficiently by centralising them according to Factur-X standards. With Weproc, you benefit from a simplified invoice processing method and optimised costs.
Frequently asked questions
Any questions ? We got the answers
What is a sourcing management software?
Sourcing management software such as Weproc enables you to manage your entire purchasing process, from purchase requisition to supplier invoice and payment. You can also automatically track budgets, deals, contracts and suppliers directly from this solution.
What are the advantages of using a sourcing software?
Using sourcing software like Weproc gives your company a number of advantages:
Real-time order tracking

Shared

visibility

that

saves

everyone

time

One

–

click

tracking

and

visibility

of

all

your

suppliers
Who can use a sourcing management software?
Whatever your field of activity or the size of your business, using a sourcing management software offers undeniable advantages. Whether it's to automate procurement processes, track expenditure, manage suppliers or improve the quality of products purchased, this software offers a wide range of functions tailored to the specific needs of each company.
What's more, Weproc is particularly effective when you need to structure your internal processes, so that you can keep better track of your company's supplies and ensure optimum stock management. Our solution is designed to be accessible to all budgets and levels of use.
How to set up a sourcing software?
The time it takes to impleme a sourcing management software is influenced by the complexity of your internal processes and the data to be imported into the system. So, to get started, identify your needs in terms of functionality, data storage and processing. Then select a solution that's right for your business, taking into account pricing, integrations, support services and customer reviews.
Don't hesitate to ask for a demonstration to assess the quality of the product and the user interface. Consider a gradual roll-out, involving your teams in the use of this new system. Finally, make sure you can integrate this procurement software with your accounting system and other ERP / SRM systems.
At Weproc, the installation period varies from 2 to 7 days, depending on the volume of data to be imported. With no data to import, Weproc can be used instantly.
Why should you implement a sourcing software?
By implementing a sourcing management software, you can effectively monitor and supervise the flow of orders within your company, allowing you to remain in control of the situation. This makes it easier to optimise your purchasing, procurement and supplier invoicing processes.
What's more, the advanced features of modern procurement software often include improved stock management, cost reduction, order traceability, process automation, quality/price improvement and better supplier relations.