Start your purchasing process with a well-formulated request.
Express your needs via simplified specifications, and request quick approval. Instantaneous transmissions, digitized file.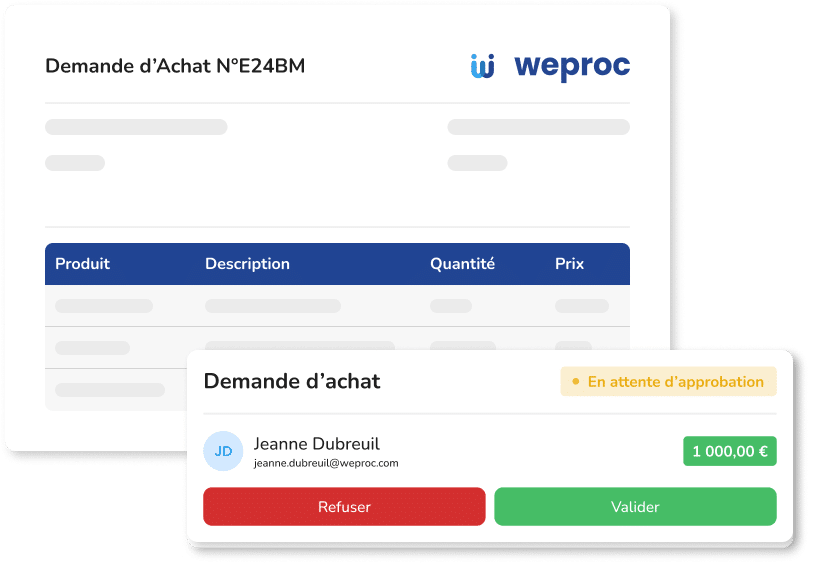 Adapt your requests using a form and facilitate the reporting of internal needs.
Set up your validation circuit and streamline your exchanges.
Because your time is precious, speed up your Purchase Requests.
Is lost due to an inefficient Purchase Requisition process
Managing Purchase Requisitions is a key step in the corporate purchasing process.
According to a recent study, businesses waste an average of 18% of their purchasing budget due to an inefficient purchase requisition process. This may include order errors, delivery delays, or redundant purchases.
aWeproc offers an automated solution to optimize this process, reducing errors, speeding up processing times and enabling better expense management.
Weproc adapts to your needs. Specify the subject of your request using a simplified form and plan it to go to the essentials.
Adapt the tool to your processes, streamline exchanges with your suppliers and simplify RFQs and Purchase Requests.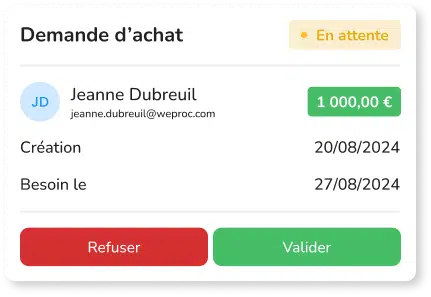 Benefit from an automated workflow, set authorizations according to your conditions, and approve remotely.
Validate, refuse, transmit, all scenarios are possible thanks to the flexibility of the tool. The actions are traced and archived in the file.
Accelerate your Purchase Orders
After receiving and validating the Purchase Request, convert the ticket according to your needs.
Eliminate loopholes in your purchasing process and take it to the next level.
Frequently asked questions
Any questions ? We got the answers
What is a purchase requisition?
A purchase requisition is a formal request issued by a department or employee to purchase goods or services needed by the business. Purchase requisitions can be created for everything from office supplies to production equipment to raw materials.
Weproc allows you to optimize the entire purchasing cycle, from the request to the supplier and the issuance of the invoice to the payment phase.
How do I submit a purchase request?
To submit a purchase request, you need to complete a purchase request form adding the order details as well as information about the potential supplier or seller.
How do I track the status of my purchase request?
To follow the status of your purchase request, you can use our purchasing management software which will allow you to see in real time where your purchase request is: awaiting validation, in process or already validated.
Can I cancel a purchase request?
If you need to cancel a purchase request, you can do so from Weproc by canceling the corresponding request. You can also contact your supplier's purchasing department to let them know of your cancellation request.
Comment sont gérées les approbations des demandes ?
The management of purchase requisition approvals is managed by the purchasing department of your partners. Once you submit your request, it will be reviewed by the provider and approved or not. You can thus follow the status of your request at any time from Weproc.