Tender management software
Finding the right supplier for a specific need is often a source of stress.
With Weproc, you can simplify your company's calls for tender and make your decision-making easier.
Discover your future tendering software
Our tendering software provides you with a single platform for managing all your supplier interactions. You can track your tenders, manage bids received and access all supplier information and documents.
Simplify and optimize your RFQ process, from publication to bid closing.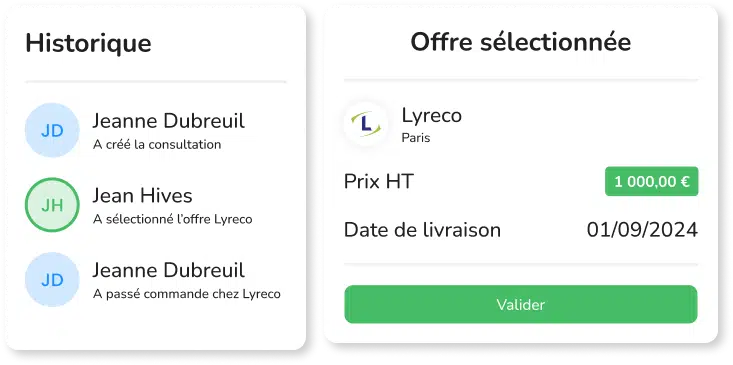 Why choose Weproc for your tenders?
Tender management is an essential component of your purchasing strategy. Your company's performance depends on the quality of the products and services you buy, and on the terms and conditions of those purchases. These factors are directly linked to the way you manage your tenders.
Weproc offers a number of advantages that make our solution the ideal choice for managing your tenders.
Turn your needs into tenders
Weproc makes it child's play to turn your needs into tenders. Our solution lets you precisely define your needs in terms of products or services.
Once defined, you can create detailed calls for tender and share them with your supplier panel in just a few clicks.
Invite your suppliers to respond
Weproc doesn't just help you create and publish tenders. We have also developed a dedicated supplier portal where your suppliers can respond directly to your tenders.
This portal facilitates communication with your suppliers, allowing them to submit bids, ask questions and track the status of their bids.
Receive all offers in 1 place
One of the main advantages of Weproc is the centralization of offers. Instead of receiving tenders by email or post, you receive them all directly on our platform, enabling you to compare them, track their status and manage them efficiently.
What's more, our bidding software reduces the risk of errors or lost information, ensuring that you always have a complete view of all bids received.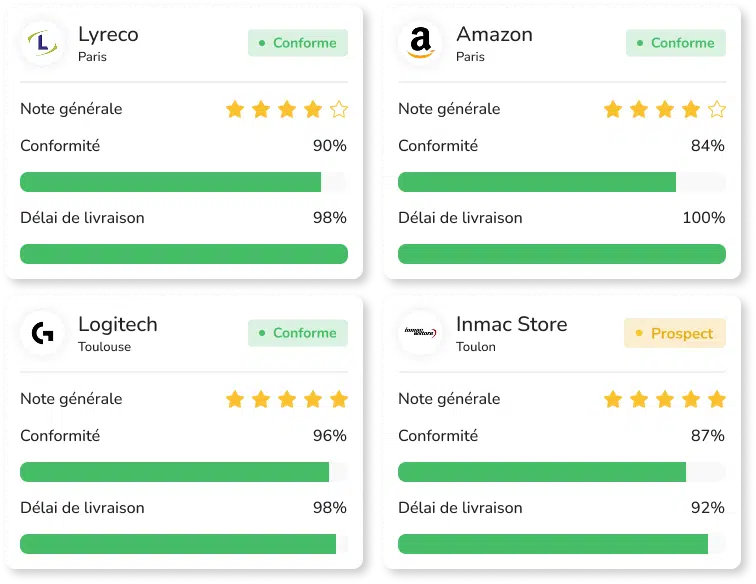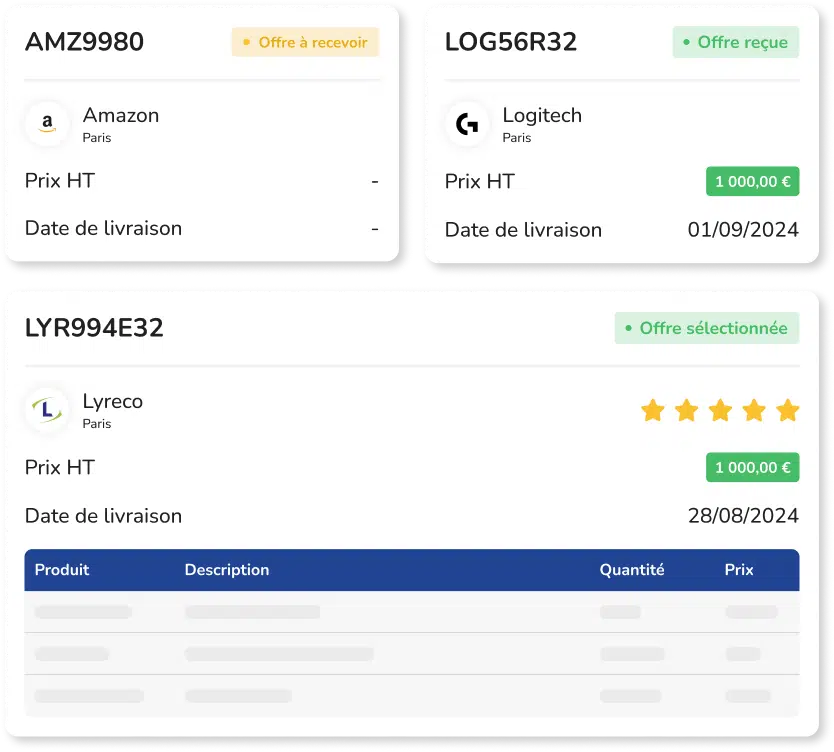 Automatically compare your suppliers' offers
Our software is equipped with an automatic comparison tool that allows you to compare your suppliers' offers according to criteria you define.
Whether you want to compare prices, delivery times or any other criteria, Weproc gives you the tools to do it simply and efficiently. Easily compare your suppliers' offers with our algorithm and automate your decision–making.
Easily track the progress of your tenders
Weproc gives you complete visibility over the progress of your tenders. Our dashboard lets you track the status of each tender, from publication to closing.
You can see at a glance how many bids you've received, how many are still under consideration, and how many have been accepted or rejected. This enables you to make informed decisions and manage your tenders efficiently.
Frequently asked questions
Any questions ? We got the answers
How does a tender software work?
Tender software centralizes and automates the various stages of the supplier consultation process. It enables you to create and publish calls for tender, invite suppliers to submit bids, receive and compare these bids, and track the progress of each project.
Weproc also facilitates communication with suppliers and ensures data security.
What are the advantages of using dedicated software to manage calls for tender?
Using dedicated software to manage your tenders saves time by automating repetitive tasks, improves accuracy by reducing human error, and optimizes the purchasing process by providing tools to easily compare bids.
What's more, Weproc's tendering software provides better management of these consultations and facilitates decision–making.
Can tender software help improve supplier relations?
Yes, tender software can greatly improve the relationship with your suppliers. By facilitating communication and making the tendering process simpler for both parties, software can help build trust and collaboration between you and your suppliers.
How does Weproc facilitate communication with suppliers during a call for tenders?
Weproc facilitates communication by setting up a dedicated supplier portal. On this portal, suppliers can respond to your calls for tender, submit their documents and track the status of their bids. This makes the process more transparent and efficient, and enables smoother communication between you and your suppliers.
What are the best criteria for comparing suppliers' offers?
The criteria for comparing suppliers' offers may vary according to your sector of activity and your specific needs. However, some common criteria include price, quality of products or services offered, supplier reputation, delivery time, and compliance with specifications.
Weproc allows you to define your own comparison criteria and automatically compare offers based on these criteria.