From supplier order management to payment, Weproc is there to support you.
Weproc is a Procure–to–Pay (P2P) software package that enables you to centralize your entire P2P process, from requisition to payment, including order creation and supplier invoice management.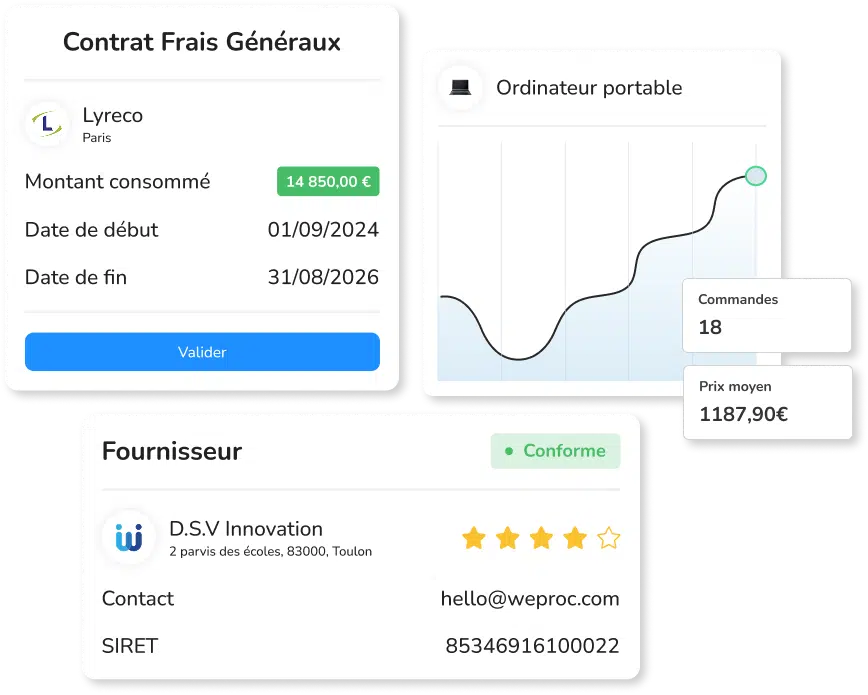 Weproc, Procure-to-Pay software for innovative companies
Procure to Pay (P2P), also known as Purchase to Pay, is an integrated process that establishes a vital link between the procurement and accounts payable functions. From the generation of the purchase order to the final payment of the supplier invoice, the Purchasing and Accounts Payable departments work closely together to ensure optimized cost management, maintain optimum operational efficiency and contribute to value creation throughout the company's value chain.
Weproc manages all stages of the Procure–to–Pay process, from purchase requisition to supplier invoice payment.
Procure-to-Pay vs Source-to-Pay
When it comes to purchasing management, it's essential to make a clear distinction between Source–to–Pay (S2P) and Procure–to–Pay (P2P). Although both concepts are essential, they have distinct roles and should not be confused.
Procure–to–pay, also known as "P2P", represents a global process that encompasses all stages of purchasing management within an organization, from the identification of requirements to the payment of suppliers. This process includes various activities such as identifying needs, negotiating contracts, placing orders, receiving goods or services, checking invoices and finally paying suppliers. The main aim of procure–to–pay is to optimize purchasing management, ensure compliance with internal policies and procedures, reduce costs, improve the efficiency and transparency of procurement processes, and strengthen relationships with suppliers.
Within an organization, source-to-pay, also known as "S2P", represents a complete process that encompasses all stages of purchasing and supplier management. It begins with the identification of the most suitable supplier and ends with payment. Source-to-pay includes activities such as spend analysis, sourcing, contract management, supplier management, purchasing, purchase order processing, supplier invoice management and the payment process. By implementing a
source-to-pay software
, you can optimize purchasing management, reduce costs, improve supplier performance and benefit from greater visibility and traceability throughout the process.
Why choose Weproc as your Procure-to-Pay software?
The management of your supply chain is crucial to the smooth running of your business: a poorly executed purchase, a price that's too high, or a delay in delivery have a direct impact on your organization's performance. With Weproc, your P2P process is framed and automated: leave no room for costly mistakes by implementing Procure–to–Pay software that automates your entire purchasing management: Purchase Requisition – Supplier Order – Supplier Invoice – Payment. All in one place.
Purchase request management
Centralize all your needs directly on the platform. Each user can create purchase requisitions, and automatically forward them to the right validators to check the need, as well as the allocated budget. Automatically track the progress of all your requests.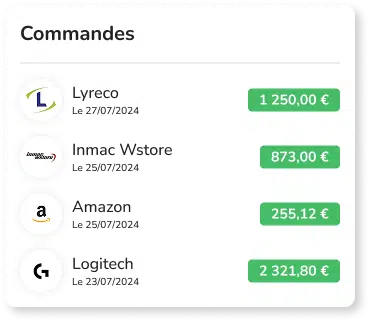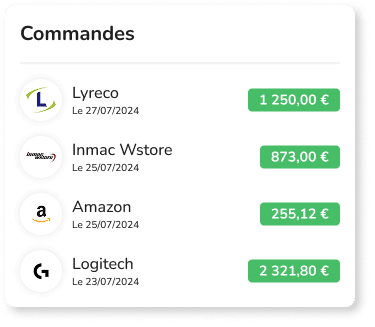 Manage all your supplier orders with Weproc: from creation to generation of the purchase order and automatic transmission directly to the supplier, everything is done to save you time and give you visibility of the progress of your orders. You're notified in real time when your supplier acknowledges receipt of your purchase order.
Supplier invoice management
Managing supplier invoices has never been easier. Centralize all your documents on the tool. Weproc takes care of transcribing the data for you, thanks to OCR technology, and automatically reconciles the amounts of your invoices with your purchase orders, in order to identify any price discrepancies.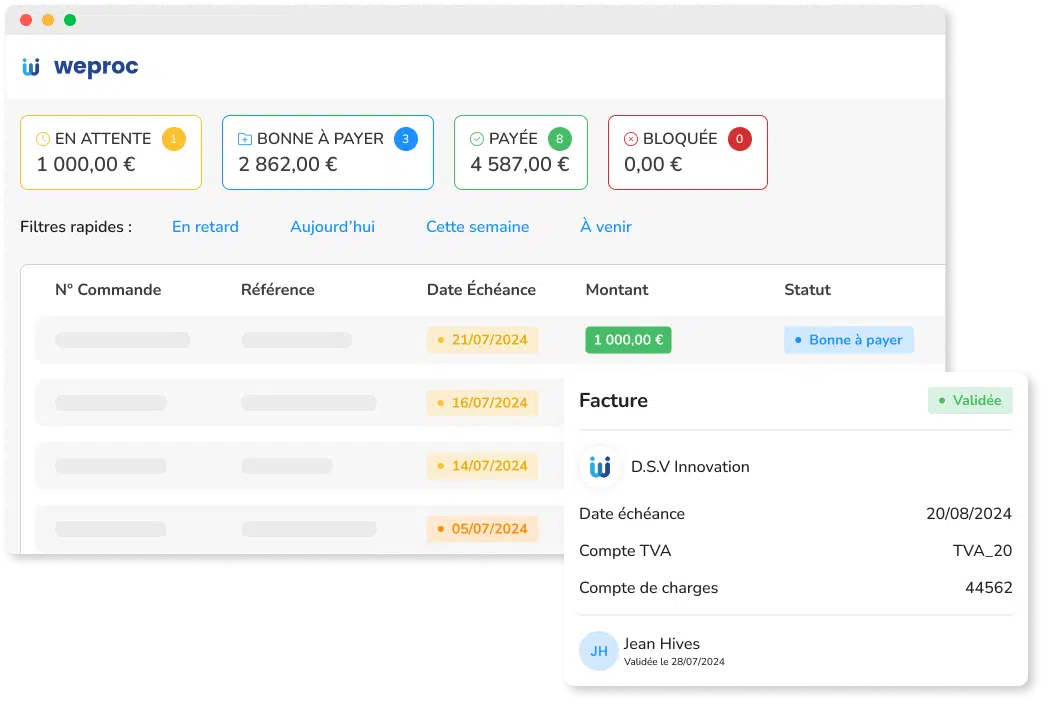 Supplier Payment Management
Once your invoices have been validated, you can manage their payment. Weproc interconnects easily with all the tools on the market: ERP, accounting IS, and automatically transmits information to your various software programs, saving you time and eliminating the need to re–enter information.
Weproc offers an innovative SRM solution that digitizes and centralizes your supplier relationships. Take advantage of intuitive mapping, personalized files and framework contracts for optimal management. With our real–time analysis tools, you can reduce risks and improve decision–making.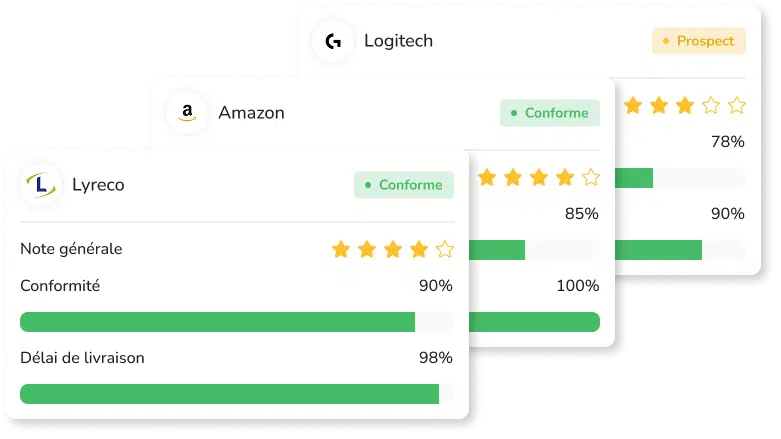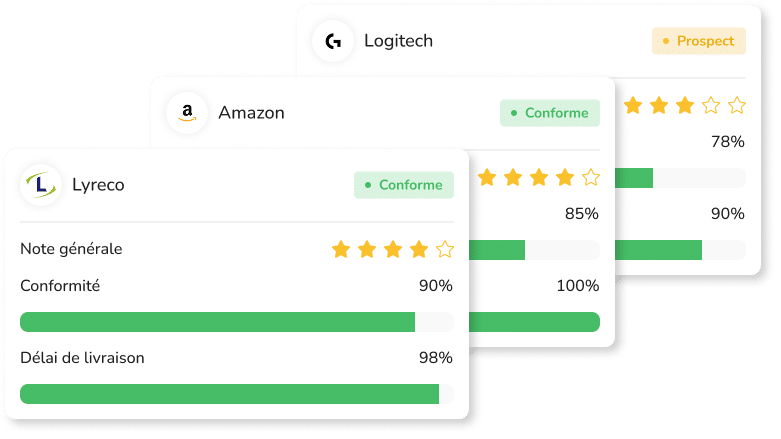 Frequently asked questions
Any questions ? We got the answers
What is the Procure-to-Pay (P2P) process?
Procure–to–Pay (P2P) is a term used to describe all the steps involved in managing a company's purchases and payments. It encompasses all activities from the identification of a purchasing need to the final settlement of the invoice.
The Procure–to–Pay process generally begins with the recognition of a need for a product or service within the company.
Once this need has been identified, a purchase requisition is formulated and approved. The next step is to research and select the supplier who can provide the required product or service. Once the supplier has been selected, an order is placed and, on receipt of the product or service, an invoice is issued. Payment of this invoice is the final step in the P2P process. Throughout this process, the focus is on efficiency, cost reduction and value creation.
What's the difference between P2P (Procure-to-Pay) and S2P (Source-to-Pay) software?
P2P and S2P software are both designed to automate and streamline a company's purchasing processes, but they differ in scope and functionality.
P2P, or Procure–to–Pay, software manages all stages of the purchasing process, from requisition to final payment to the supplier. It includes functionalities such as requisition management, order processing, receipt of goods or services, and invoice and payment management.
S2P, or Source–to–Pay, software goes a step further, incorporating the strategic sourcing process as well. Even before a purchase requisition is formulated, S2P software helps to identify the best suppliers, negotiate favorable contracts and manage supplier relationships. This not only ensures that the company obtains the best products or services at the best price, but also improves supply chain efficiency and simplifies supplier relationship management.
In short, while P2P focuses on the purchase and payment process, S2P encompasses the entire procurement lifecycle, from source to payment.
What is the purpose of Procure-to-Pay?
The main aim of the P2P process is to streamline purchasing and payment operations, offering greater transparency and effective control over spending. E–procurement tools play a key role in automating and optimizing the P2P process, facilitating purchasing management, invoicing and payment processes.
In addition to these benefits, the P2P process also helps minimize risks and errors. By automating processes, it reduces potential manual errors in orders, invoices and payments. It also ensures greater compliance with corporate purchasing policies by guiding users through the approved stages of the purchasing process.
How to choose your Procure-to-Pay software
When choosing P2P software, you need to consider your company's specific needs. What are your expense management objectives? How large is your company, and how many people will be using the software? What types of goods and services does your company buy on a regular basis?
Next, you should look at the functionalities offered by the software. Good procure–to–pay software should offer functionality to manage the entire P2P process, including requisition, approval, purchase, receipt, invoicing and payment. Features for supplier management, spend analysis and reporting can also be useful.
Ease of use is another important factor to consider. In particular, Weproc is renowned for being intuitive and easy to use for everyone involved in the purchasing process.
What role does P2P software play in improving supplier relations?
Procure–to–Pay software provides a centralized platform for managing all supplier interactions, from the initial selection process to contract management and performance monitoring.
P2P software often stores all relevant supplier information, including contract details, order history and performance evaluations.
This facilitates clear and accurate communication with suppliers, and helps to resolve potential problems quickly.