Consolidate all your purchases into one file
Easily track all your files by gathering your requisitions, consultations and orders in one place.
Gather information from your files and gain productivity.
Facilitate collaboration between members of the same project.
Access important information and track the progress of your projects.
For each of your projects
Centralize all relevant information
As a buyer, not having visibility into the progress of your projects can lead to costly delays. Weproc allows you to centralize all your data and have a real-time view of the progress of each of your files.
Save time, optimize your processes and make decisions faster.
Centralize all important information
Gather all the information from a single file (purchase requests, consultations, orders) in one place, access the data in one click.
Save time by adopting an optimized purchasing process and boost your productivity.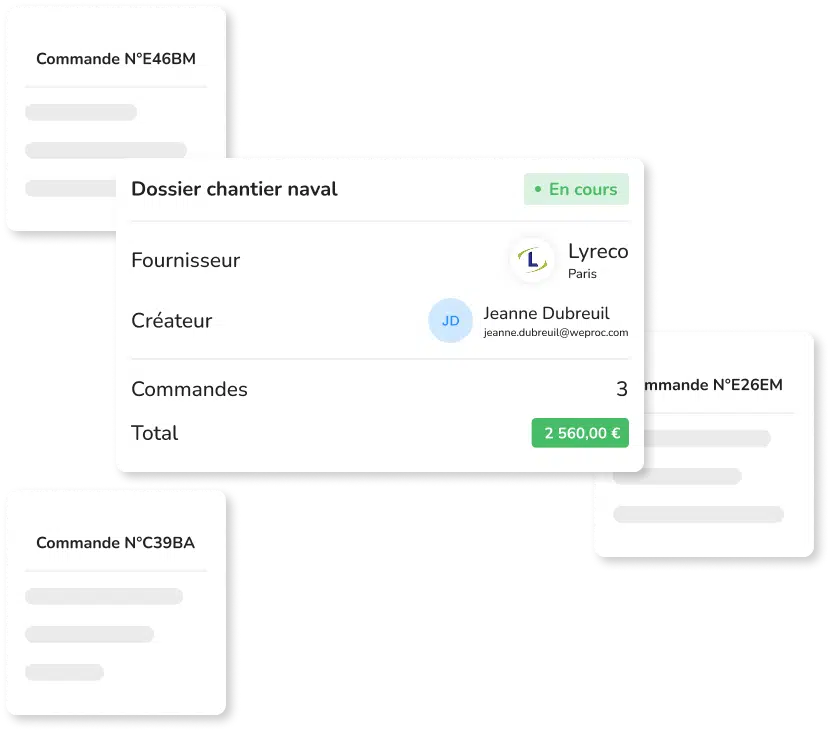 Give visibility to your employees
The Weproc file system facilitates collaboration between the different people working on the same project. Everyone sees the progress, for the greater happiness of your company.
Monitor the progress of all your files
In order to avoid endless exchanges by email or telephone between several collaborators working on the same file, all information is available and accessible to each person involved.
Access your data easily and share the information with your collaborators.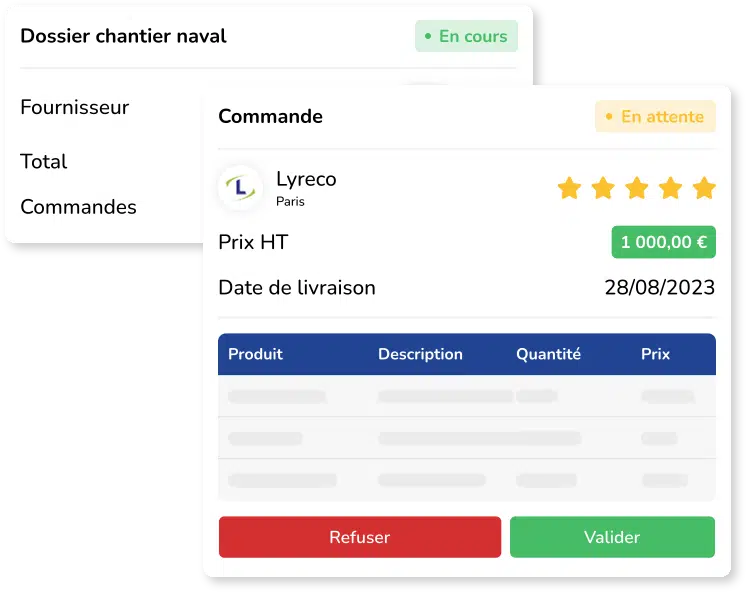 Frequently asked questions
Any questions ? We got the answers
How to efficiently organize your purchasing files?
In order to efficiently organize purchasing files in a company, it is important to centralize information on supplier contracts, product and service catalogs, as well as budgets and expenses.
The use of a file management system will allow to classify the information by procurement categories and to ensure a quick access to the data for the concerned actors. Finally, the implementation of workflows to structure the purchasing and validation processes will also facilitate file management.
How to follow the evolution of supplier contracts within the purchasing files?
To keep up with this evolution, it is crucial to have an analytical tool for monitoring supplier performance. This tool will allow to evaluate suppliers according to criteria such as quality of products and services, delivery times, flexibility and price competitiveness.
Regular monitoring of these indicators will facilitate the adaptation of contracts and catalogs according to the company's needs.
How do I manage purchasing records across multiple locations?
Managing purchasing records for multi-site companies requires a centralized and coordinated approach. It is essential to implement a records management system that allows for the viewing and comparison of purchasing information from different locations.
Harmonizing purchasing processes, supplier contracts and product catalogs will contribute to better record management and budget savings.
How to optimize business and project follow-up?
To optimize the monitoring of business and projects in the management of purchasing files, it is important to set up dashboards and key performance indicators. These tools will allow you to monitor the evolution of expenses, deadlines and the quality of products and services, and to compare them to the objectives set.
Weproc's features allow you to structure the purchasing and validation processes, as well as the collaboration between the different departments in the company.
Is it necessary to automate the management of purchasing files to gain in efficiency?
With Weproc and its automated modules, it is indeed possible to facilitate the management of your purchasing files to gain in efficiency.
Automated file management facilitates purchasing processes such as file creation and updating, contract tracking, supplier and product catalog management.