Procurement Categories Management
Easily create, track and manage your purchasing categories
Easily track your consumption by category. Keep an eye on the breakdown of expenses and make informed decisions thanks to our real-time statistics.
Stop wasting time manually entering your expenses, Weproc takes care of it.
Set up tailor-made validation workflows based on purchasing families.
Make informed decisions to optimize your purchasing process.
Annual savings on purchases
When the company has visibility on the distribution of its expenses
Easily analyze the distribution of your expenses
Efficient management of purchasing families is essential for controlling your company's costs.
Weproc offers you a complete view of your expenses by purchasing family, allowing better decision-making and cost reduction.
Follow the distribution of your expenses by category of purchases
Each order placed on the software automatically updates the consumption of your procurement categories, and the distribution analyzes are updated automatically. Stop wasting time manually entering these expenses in an attached file.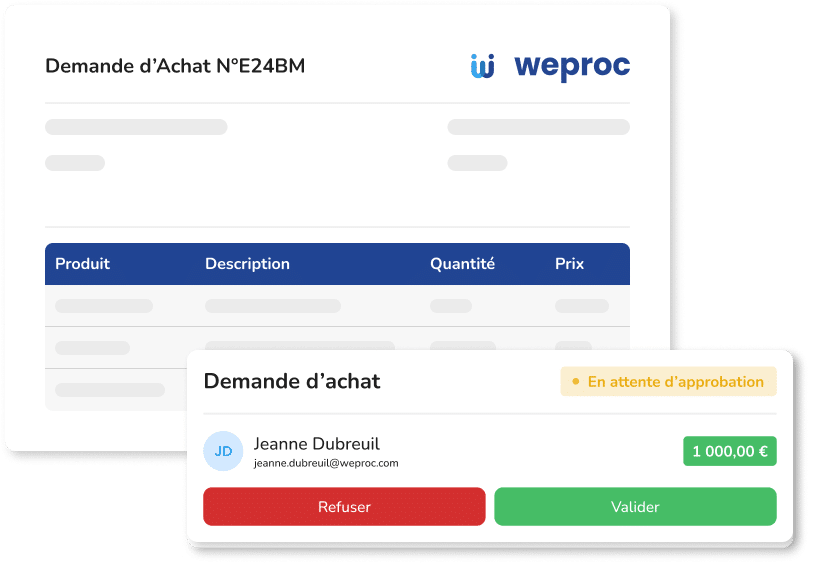 Create approval circuits based on the nature of your purchase
Weproc allows you to create tailor-made validation workflows based on the purchase category impacted by your expenses. Impacted users are notified in real time, the validation process is accelerated.
Easily make strategic decisions
Depending on the consumption and reports of information, make informed decisions about the actions to be taken in order to optimize your expenses. Our reports allow you to make instant decisions: negotiations on certain categories, reduction of budgets, etc.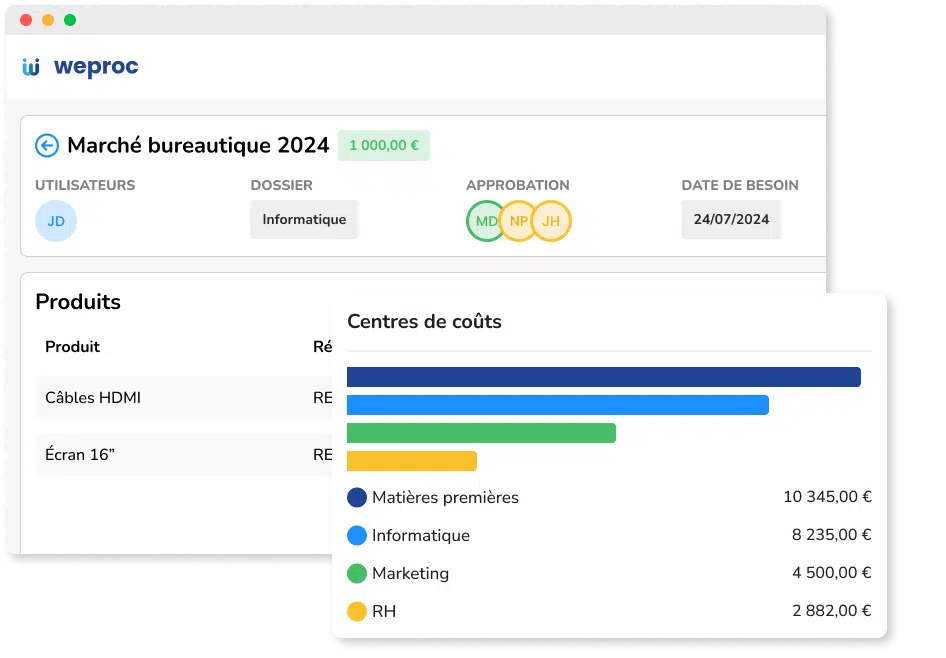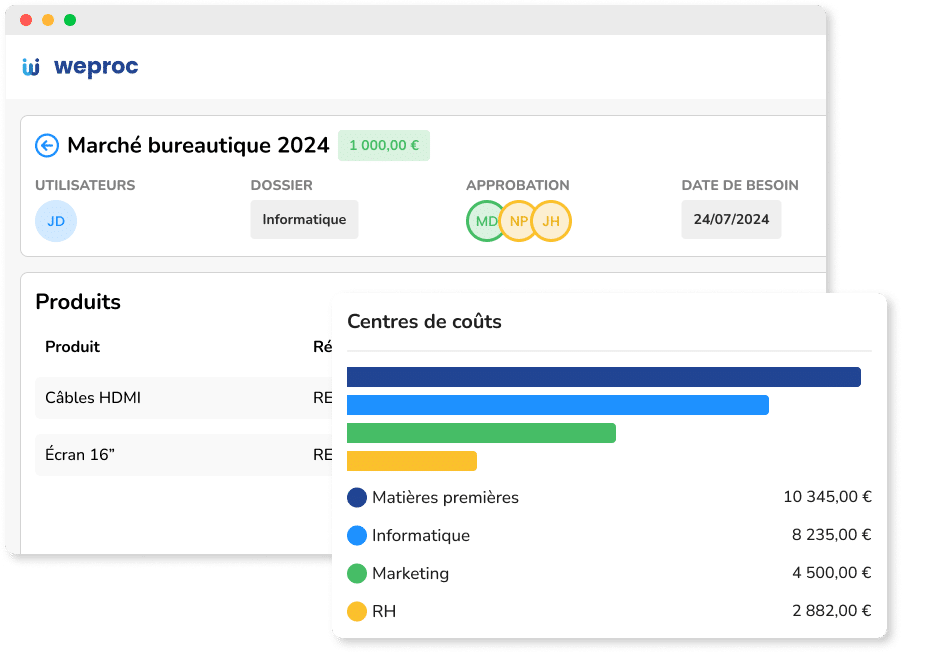 Frequently Asked Questions
You have questions ? We have the answers!
What is a procurement category?
A procurement category is a grouping of similar or complementary products or services, which are generally purchased together by a company.
The management of procurement categories makes it possible to better organize and track expenses, facilitate negotiation with suppliers and optimize purchasing processes. By grouping purchases by family, companies can identify synergies and opportunities for economies of scale, while improving coordination between the departments involved.
How do I determine the relevant procurement category for my business?
To determine the relevant purchasing families for your business, it is important to take into account several factors, such as the specific needs of your services, the catalog of products or services, and the characteristics of your suppliers.
A thorough analysis of your spending and purchasing processes can help identify the most relevant groupings. It is also important to consult internal and external stakeholders to obtain feedback and better understand the issues related to each procurement category.
How to optimize the management of procurement categories?
To optimize the management of procurement categories within your company, it is essential to adopt a structured and analytically-centric approach. This involves setting up suitable monitoring and reporting tools such as Weproc, defining clear and measurable objectives for each category of purchases, and establishing effective coordination and communication mechanisms between the departments concerned.
The establishment of framework contracts with key suppliers and the rationalization of catalogs of products and services can also contribute to improving the efficiency of the management of businesses and folders by category of purchases.
How to adapt the management of purchasing categories to several establishments?
To adapt the management of purchasing families to a multi-establishment context, it is important to take into account the specificities and needs of each establishment, while ensuring overall coordination and harmonization of purchasing processes at the personal workflows help.
This can involve setting up a centralized purchasing management system, allowing information and best practices to be shared between the different establishments, and the definition of common procedures and rules adapted to local and global constraints.
With its many features, Weproc meets this need perfectly!
How to monitor and analyze performance by purchasing category?
To track and analyze the performance of purchasing family management, it is essential to define key performance indicators (KPIs) adapted to each purchasing category and to your company's objectives.
These indicators may include cost savings, adherence to budgets, product quality and delivery times.
Our complementary modules