Implement a Purchasing Policy
Simplify your purchasing management with our solution
Customize your approval workflows, track your budgets in real time, and control your expenses with powerful reporting and analysis tools.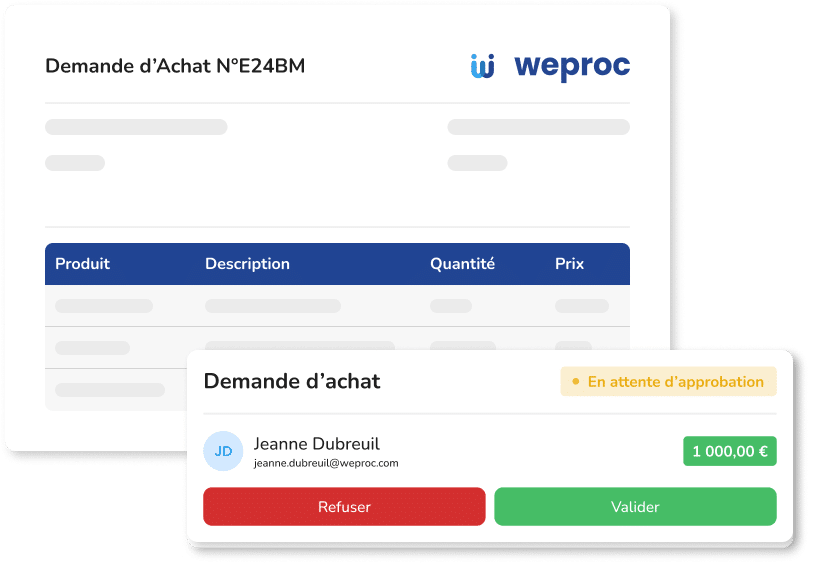 Optimize your purchasing management by customizing your workflow.
Manage your expenses while keeping an overview of your budgets.
Involve all your employees in a few clicks, for a quick and efficient validation.
When the company does not implement a Purchasing Policy
Without a well-defined Purchasing Policy, there is no expense management
The lack of a purchasing policy can have negative impacts on the company, such as duplicate orders, unnecessary expenses, orders for products already in stock, but above all: no follow-up and no concrete history of what happened.
Weproc helps you create and implement a clear and effective internal policy.
Create your own approval paths for optimized management of your requests. Configure custom workflows based on your company's specific rules.
Define roles and permissions for each user for fast and efficient request approval. Track the status of each request in real time for complete visibility into your purchasing processes.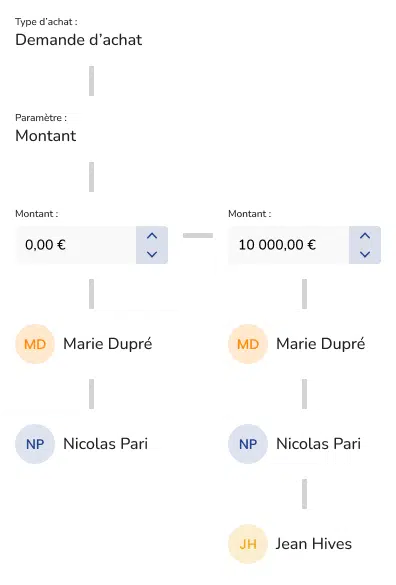 Define budgets for each department, project or marketing campaign. Empower your teams to manage their budgets and make decisions quickly by providing a real-time view of their expenses.
Control your expenses with powerful reporting and analysis tools for total cost control. Track all your expenses and analyze them in real time with customizable dashboards.
Validation steps with approvers
Define approval levels based on the amount of requests issued. Approvers can access their approval tasks at any time for fast, real-time management of your requests.
Whether it's for supplies, services or equipment, set threshold amounts for each purchase category: avoid budget overruns and purchasing errors.
Frequently asked questions
Any questions ? We got the answers
What is a purchasing policy?
A purchasing policy is a set of rules, internal procedures and standards that guide the management of purchasing within a company. It is generally put in place to ensure the efficiency and transparency of the purchasing process.
What method should be used to develop a purchasing policy?
The development of a purchasing policy involves an in-depth analysis of the company's needs, objectives and priorities. It must take into account the regulations in force, budgetary constraints and best practices in the sector.
The purchasing policy is one of the major issues of company management and should not be neglected.
What are the benefits of a good purchasing policy?
How to evaluate the efficiency of your purchasing policy?
To evaluate the effectiveness of a procurement policy, it is important to measure results against objectives. Key performance indicators can include cost savings, quality of products purchased, compliance with rules and standards, user satisfaction and environmental sustainability.
What are the key steps in implementing a sustainable purchasing policy?
To implement a sustainable purchasing policy, it is important to define a clear strategy, to raise awareness among stakeholders, to select responsible suppliers, to integrate environmental and social criteria in calls for tender and contracts, and finally to measure the impacts and progress achieved by this new internal procedure.